by Ellen Harold and Peter Stone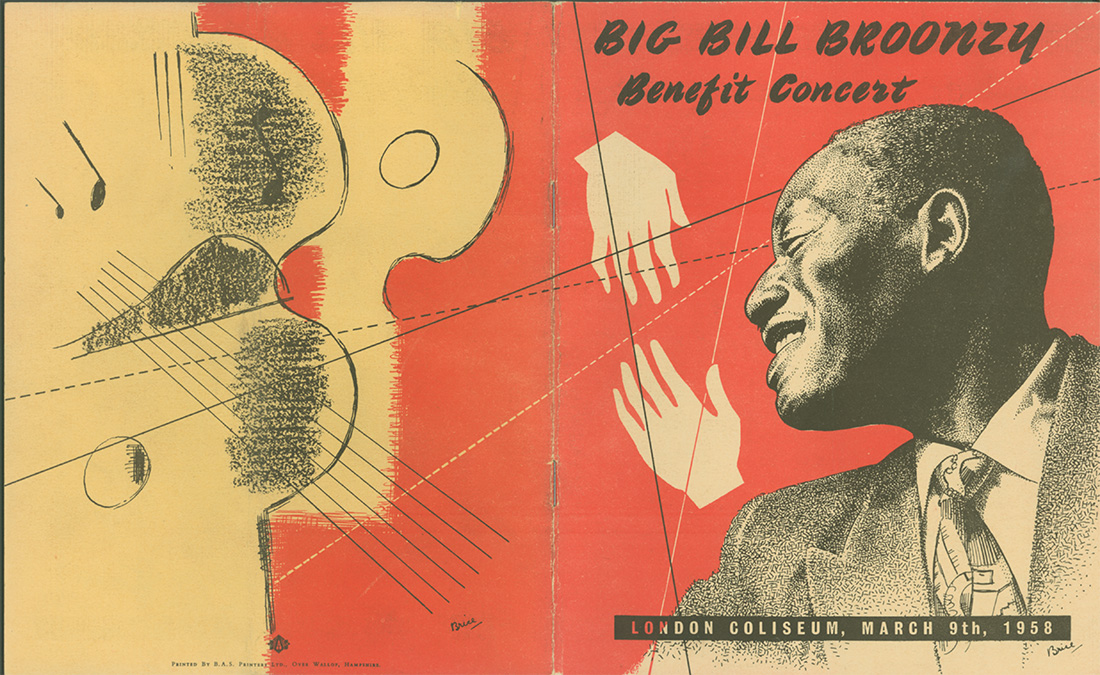 Big Bill Broonzy, one of the most important of the pre-World War II Chicago blues singers, recorded over 250 songs from 1925 to 1952, including "Key to the Highway," "Black, Brown, and White," "Just a Dream," "Hard Hearted Woman," "Looking Up at Down," "Romance Without Finance," and "When Will I Get to Be Called a Man" and is listed as composer of even more. His recording career, which began with Paramount and continued with countless other labels (Vocalion, Chess, Verve, and Folkways, to name a few), spanned more than three decades, progressing from the Maxwell Street blues of Chicago, passing en route through "hokum songs" (up-beat, ragtime-based, and with sexually suggestive lyrics) to the songs of the folk revival of the 1950s. As one of the most important performers for Bluebird records in the late 1930s, Broonzy usually played in small ensembles in which alto or tenor sax, clarinet, or sometimes trumpet carried the melody. This, writes Paul Oliver, "gave a jazz inflection to the music and anticipated later developments in the blues, but it was still blues that they played, though often of the hokum variety, or with a hard-driving swinging dance rhythm." (The Story of the Blues, Massachusetts: Northeastern University Press, 1998) p. 129). Broonzy was a natural leader, who in the 1940s advised and helped younger musicians such as Muddy Waters, Little Walter, Jimmy Rodgers (James A. Lane), and Memphis Slim. In the 1950s and 60s he influenced British rock and blues performers, notably Eric Clapton and Keith Richards.
Broonzy played an important role in shaping Alan Lomax's thoughts about the origins and role of the blues. Lomax's final book, The Land Where the Blues Began (New York: Pantheon Books, 1993), draws extensively on material from transcribed interviews with Broonzy. Broonzy's life and times have now been chronicled in a new and definitive biography by Bob Reisman, I Feel So Good: The Life and Times of Big Bill, scheduled for publication by the University of Chicago Press later this year (2010).
One of Broonzy's best known songs, the protest song, "Black, Brown, and White", addressed the experiences of black war vets and the painful issue of preferential treatment by gradations of skin color:
This little song that I'm singing about,
Brother you know it's true.
If you're black and gotta work for a living
This is what they will say to you.
Chorus:
They say if you's white, should be all right, 
If you's brown, stick around, 
But if you's black, well, brothers, get back, get back, get back.
I was in a place one night, 
They was all having fun. 
They was all buyin' beer and wine 
But they would not sell me none. 
Me and a man was workin' side by side. 
This is what it meant: 
He was making a dollar an hour,
They was paying me fifty cent. 

I helped build this country, 
I fought for it too. 
Now I guess you can see 
What a black man have to do
(Lyrics from a previously unreleased recording issued on Blues in the Mississippi Night, Rounder CD, [1999], in the Alan Lomax Collection. A slightly different fragment is quoted in Lomax's Land Where the Blues Began, 1993, pp. 442-43).
Though this song became a staple of his live repertoire, Bill reported that for years no company would record it, giving as a reason that it wouldn't sell, "after I had played it, they would refuse," he said.
"What's wrong with it, I would like to know? What I say is just about the way the working Negro is treated in this country on all jobs in the North, in the East and in the West, and you all know it's true."
"Yes," they would say to me, "And that is what's wrong with that song. You see, Bill, when you write a song and want to record it with any company, it must keep the people guessing what the song means... And that song comes right to the point and the public don't like that." One day I got a letter from the Mercury Recording Company that told me to get ready with about eight songs for a recording session. That was in January 1952. I recorded "Black Brown and White" that time, but it hasn't been released. Of course I know that the Mercury Company recorded it because of Mr. John Hammond [who was then vice president of Mercury]. I played it to him once in 1946. Him and Alan Lomax both liked it. Mr. Hammond said to me: "Bill, that's a good song you've got there, why don't you record it?" "I've tried nearly all the companies, but they don't like it." He smiled and said, "They will." So that's why it has finally been recorded in the States, too... Of course there's nothing wrong with the song... this song doesn't mean for a Negro to get back, it just tells what has happened on jobs where Negroes goes to." - Big Bill Broonzy, quoted in Marion Barnwell, A Place Called Mississippi: collected narratives (University Press of Mississippi, 1997), pp. 317-318.
"Black, Brown, and White," appeared in print form in the October 1946 Bulletin of People's Songs ("organized to create, promote and distribute songs of labor and the American people") and was recorded by Brownie McGhee in 1947 on Irwin Silber and McGhee's Encore label and by Pete Seeger in 1948 on Charter (reissued in Songs for Political Action: Topical Songs and the American Left 1926-1953, Bear Family Records, 1996). Broonzy's own performance for Mercury, recorded as "Get Back," was not released until after his death in 1958. As late as 2009, some found the song's message unacceptable. When venerable 87-year-old Civil Rights leader Reverend Joseph Lowery quoted it during President Obama's inauguration, rightwing commentators denounced him as "racialist" and "divisive," provoking much "is-he-or-isn't he?" handwringing in the media.
Dates, names, sequent of events, and places in Big Bill's first thirty years or so of life are frustratingly hard to pin down. Broonzy's persona as a performer was a rather fluid construct: he told varying versions of the events of his life according to whom he was addressing and what he thought they expected to hear. This could have been partly due to the mistrust of authority and habits of discretion and evasiveness that African-Americans had to acquire to safeguard their own lives and those of their families in the Jim Crow era, when the legal system afforded them scant protection. But Bill also evidently viewed himself, that is to say, his performing persona, as a representative figure with a message to get out about the black experience in America, and strict accuracy for him took second place to communicating the realities of the larger picture.
William Lee Conley Broonzy was one of 17 children of parents born sometime in the 1860s. By his own account he came from Scott, in Bolivar County, Mississippi, and was born during the flood of 1893 on a Choctaw Indian mound on the east bank of the Mississippi River across from Arkansas City, Arkansas. At the time a port downriver from Memphis, Arkansas City is now about a mile inland, the river's flow having been diverted eastward by the great flood of 1927. Bill's sister Laney, to whom he was always close and who he told Alan Lomax was his twin, produced certificates showing June 26, 1898, as his birth date. Still other sources place it at 1901 or even 1903, which would have made him 14 when he said he went into the army. They speculate that either Bill added years to his age in order to be eligible for army service (which is possible given his tall stature) or perhaps did so later to qualify for union benefits (which would mean that some of his very vivid and plausible tales were based on the experiences of siblings or acquaintances).
We do know that at the beginning of the new century Bill's parents, Frank Broonzy (or Bromzie, or Bradley), a deacon in the Baptist church, and his wife, Nettie (Mittie?) Belcher, and their children moved several times, eventually to Pine Bluff, Arkansas, where Frank worked as a sharecropper in the Mississippi Delta river bottoms.
As a boy, Bill made himself a cigar box violin, which an uncle, Jerry Belcher, taught him to play. Soon he was playing a real instrument for tips at country dances and picnics. He also sang and played the violin for the church and its social functions with his friend Louis Carter, who played guitar. These experiences gave him a feel for ensemble playing which later stood him in good stead musically.
Bill grew up to top his father's six-foot-and-a-half-inch frame by another three-and-a-half inches. Before he reached his teens he had joined the older man behind the plow. As he grew older he also did other kinds of manual labor, learning work songs while working on road gangs, in Delta levee camps, and laying track for the Cotton Belle Railroad Line. For a while he found religion and gave up the violin, which the church considered sinful. He took up preaching, honing his persuasive skills. He married and tried settling down to farming, but when given a chance to earn a new violin and $50, plus $14 in tips to perform for a three-day picnic with his friends Louis Carter and Jerry Saunders, his resolve wavered. Blues historian Samuel B. Charters recounts that Bill's wife Gertrude had already accepted the gig for him and spent the money, leaving him no choice but to play (Charters, The Country Blues, New York: Rinehart, 1959, Da Capo Press, 1975). Whatever the case, secular music brought in more extra cash than religion, and Bill soon gave up the church to play at dances, fish fries, and picnics in Arkansas, Mississippi, and Texas. His repertoire included waltzes, reels, ragtime, blues, pop songs; and one-step, two-step, and square dances for audiences black and white. Drafted sometime after 1917, he was sent overseas to fight in World War I, and due to the lengthy demobilization arrived home sometime in 1920. He told Alan Lomax that he learned to read while in the army, though it is likely he did have some schooling before that. Like many like many other African-American vets, on his return he found life in the South intolerable. As his song "When Will I Get to be Called a Man" states:
When Uncle Sam called me, I knew I would be called the real McCoy
But when I got in the army, they called me soldier boy.
I wonder when, yes, I wonder when, I wonder when will I get to be called a man,
Or do I have to wait till I get ninety-three?

When I got back from overseas, that night we had a ball,
But I met the boss the next day, and he told me, 'Boy, get you some overalls!' 
I wonder when, yes, I wonder when, I wonder when will I get to be called a man,
Or do I have to wait till I get ninety-three?
His dissatisfactions included his marriage to Gertrude, so he left her and Arkansas for Chicago, joining the ever-increasing wave of black migration northward that had begun in the mid-teens.
In Chicago, Broonzy joined other African-American arrivals from the Delta who played jazz, rags, and hokum songs in the multi-cultural (though then predominantly Jewish) open-air market on Maxwell Street, which has been called (with partial aptness) "the Ellis Island of the Midwest." To support himself, he held various jobs - he briefly became Pullman porter, a coveted profession for African-Americans at the time, but quit because traveling interfered with his musical activities. Since the violin was becoming unfashionable, he put his aside and learned the guitar. As he told Studs Terkel (in a 1958 interview reprinted in Guitar Player 15 years later), "I didn't play guitar until I came to Chicago... I started in 1921, didn't get good at it until 1923." His principal teacher was Papa Charlie Jackson. A leading figure on Maxwell Street and one of the earliest male blues recording stars, Jackson is remembered today for "Salty Dog Blues" and "Shake That Thing." Bill recalled that Jackson "taught me how to make my music correspond to my singing." Jackson also connected Bill with J. Mayo Williams, the black executive at Paramount records, the leading "race" records company of the day. In later years when Bill himself became established in Chicago, he stayed in touch with developments back in the Delta and on Maxwell Street and likewise acted as mentor to talented newcomers. Other influences included Jackson's colleague, Blind Blake ("who began to show me what the guitar could do. He made it sound like every instrument in the band - saxophone, trombone, clarinets, bass fiddles, pianos - everything"). Blind Lemon Jefferson, Ma Rainey, and Bessie Smith were influences via their recordings.
At Paramount Bill began by accompanying blues singers on records. "House Rent Stomp," his first solo recording, released in 1927, was backed by "Big Bill Blues," with John "Thomps" Thomas on vocals. Though this first disc was not especially successful, Broonzy soon began earning some money from recording, as well as picking up extra cash at rent parties. The end of prohibition in 1933 also made it possible for him to perform in taverns and clubs. For much of his career, however, he continued to have day jobs, often as a custodian.
In 1932, Broonzy started to work with ARC (the American Record Corporation, which subsequently bought the Columbia catalogue, which included Okeh!), a partnership that lasted until 1947. In 1934, Broonzy joined the stable of producer Lester Melrose, who worked chiefly at Bluebird, a label formed by RCA to compete with ARC. His influence was broader than the listed number of recordings on which is name appears, since he was often uncredited as a backup man (for contractual reasons) or listed only as composer. Broonzy, who had come into his own as a vocalist and guitarist, soon became a key figure in establishing Bluebird's distinctive small-ensemble rhythm-and-blues sound, as he played behind such musicians as, Jazz Gillum, Lonnie Johnson, Tampa Red, Washboard Sam (his half brother), John Lee "Sonny Boy" Williamson (best known for his recording of "Good Morning, Little School Girl"), and Memphis Minnie, the queen of the Delta blues. Together they paved the way both for rock-and-roll and the electrified "Chicago" blues sound now associated with Little Walter and Muddy Waters.
From 1934-37 Broonzy joined forces with pianist "Black Bob" Hudson, adding bass and drums, and, with Walter Williams (trumpet) or Buster Bennet (alto sax), formed Big Bill Broonzy's Memphis Five. The gifted pianist Joshua Altheimer replaced Hudson in 1937. Of mixed African-American and German Jewish ancestry, Altheimer, like Bill, hailed from Jefferson Country, near Pine Bluff, Arkansas. Altheimer was Bill's preferred accompanist until his premature death in November 1940 at the age of thirty, when he would be replaced by Bill's protege, Memphis Slim.
By the late thirties Broonzy was well known to the black record-buying public but virtually unknown to white audiences. That changed on December 23rd, 1938, when he performed in the first of record producer John Hammond's groundbreaking From Spirituals to Swing concerts at Carnegie Hall. A milestone in the civil rights movement, From Spirituals to Swing was sponsored by the Marxist New Masses magazine after no other group, including the NAACP, would touch it because of its combination of integrated cast and target audience.
From Spirituals to Swing was intended to acknowledge on the most prestigious stage in the country the enduring musical contributions of African Americans to the national culture, tracing (in a rather simplified "evolutionary" schema) the development of African-American music from rural blues and gospel styles to more classically influenced urban jazz. It featured Count Basie, Benny Goodman, Big Joe Turner and Pete Johnson, Helen Humes, Meade Lux Lewis, Mitchell's Christian Singers, the Golden Gate Quartet, James P. Johnson, and Sonny Terry. Hammond had wanted Delta blues artist Robert Johnson to represent the roots of jazz, but a week before the concert he learned that the elusive Johnson had been murdered, and the deceased artist had to be represented by a spotlighted record player playing on the stage. Hammond chose Broonzy, accompanied by boogie pianist Albert Ammons, to take his Johnson's place as one of the featured live performers. Responding to the implicit political theme of the show, he sang: "Just a Dream", which included this verse:
I dreamed I was in the White House, sitting in the President's chair,
I dreamed he's shaking my hand and said, "Bill, I'm so glad you're here." 
But that was just a dream, 
Lord, what a dream I had on my mind. 
And when I woke up, not a chair there could I find.
On this occasion Hammond, either confusing Broonzy with some of the other rural artists brought up from the South especially for the concert or else engaging in a bit of showmanship, introduced Broonzy as an "ex-sharecropper," who was a farmhand between recording gigs. Broonzy, who was Vocalion's best-selling artist, had not been on a farm for over 20 years, but when it suited him he did not correct people's illusions. According to Sam Charters, when two young white enthusiasts "cornered him and asked him to sing some sharecroppers' songs," he explained (tongue in cheek, evidently), "that he didn't want to sing any because he might have to go back to sharecropping!" (Charters, 1959, p. 177). According to Lawrence Cohn (in his liner notes to the CD, Good Time Tonight), Broonzy was "an unqualified hit, termed 'unforgettable' by some."
The following year Hammond invited Broonzy to participate (again with Ammons) in a second Spirituals to Swing concert at Carnegie Hall, this time for Christmas Eve, with Howard University poet and blues scholar Sterling Brown as master of ceremonies. Broonzy's successes in the two concerts resulted in a brief appearance in the musical "Swingin the Dream," Gilbert Seldes' adaptation of Shakespeare's Midsummer Night's Dream, with Louis Armstrong, as Bottom, Maxine Sullivan, as Titania, to the music of Benny Goodman. The show was not a success. Still, Bill was now able to help his mother buy a house in North Little Rock. He told Alan Lomax that:
I was the kind of boy that I was crazy about my mother. So I didn't want my mother to live on this plantation. I wanted her to live in town, because I could - I figured the little money I make - I could always send her $5 a week, or $2 a week, $1 a week, what-so-never I could stretch out from me and my woman living on - I'd send it home to my mother to live on, see.
In 1940, Lester Melrose selected Bill to be one of the accompanists for his discovery Lil Green, who had crossed from being a blues singer to the status of pop star. "Romance In the Dark," a hit for Green that became a standard, was jointly credited to both Green and Broonzy. Broonzy's guitar playing features prominently in Green's 1941 rendition of Joe McCoy's "Why Don't You Do Right?" a song that jumpstarted the career of Peggy Lee when she sang it with Benny Goodman's band. Broonzy accompanied Green on the first two of her cross-country tours; for her last two tours she opted to use a big band instead, but she and Broonzy remained friends.
Broonzy's guitar-accompanied vocal, "Key to the Highway," issued in 1941, was to be his most successful record. He had recorded this on Bluebird as guitar accompanist for his friend Jazz Gillum (vocal) in 1940. Another singer, Charles Segar, had cut a 12-bar version (with a slower tempo and different tune) some months before Gillum and Broonzy's eight-bar version. "Key to the Highway" is now usually credited to Broonzy and Segar. Broonzy's version would be covered by Brownie McGhee (1946), Little Walter (1958), John Lee Hooker (1959), Mance Lipscomb (1964), the Rolling Stones (1964), Eric Clapton (1970), Muddy Waters (1971), and Buddy Guy (1993), to name a few. In 2010, Broonzy's recording of "Key to the Highway" was inducted into the Blues Hall of Fame's Classics of Blues Recordings category.
In an interview with Studs Terkel, Broonzy explained how different performers can take the communal floating tunes and verses of a traditional song like "Key to the Highway" and make a it their own:
Broonzy: Some of the verses he [Charles Segar] was singing it in the South the same as I sang it in the South. And practically all of blues is just a little changed from the way that they was sung when I was a kid . . . . You take one song and make fifty out of it . . . just change it a little bit.

Terkel: This is your song, though. You wrote this one

Broonzy: Yeah I wrote it, yeah. In a way - I'll say I wrote it, and Charles Segar [N-Dash]– he was in it too.

Big Bill Broonzy Interviewed by Studs Terkel, Folkways LP FG 3586 (recorded 1956, issued 1960)
WWII brought a temporary interruption of commercial recording, as acetate was diverted to the war effort. When the industry resumed after the war it re-labeled race music as "rhythm-and-blues" and hillbilly/folk as "country music." As new labels entered the field, Bluebird began losing its preeminence. Public tastes were changing: black audiences began to prefer up-beat dance music like that of Kansas City's Big Joe Turner, with rocking rhythms and emphatic saxophone; or they danced to slow, crooned ballads.
Chicago's live music scene was also changing. The invention of mechanized cotton pickers had spurred a tremendous influx of hundreds of thousands of new migrants from the Mississippi Delta; sometimes called the "Second Great Migration," it eventually numbered five million. A rougher and more driving sound with electric guitar and wailing harmonica, now identified as "Chicago Blues," began to prevail in the clubs and on Maxwell Street. Established artists like Big Bill Broonzy, Big Maceo, and harmonicist Sonny Boy Williamson had paved the way for this. Broonzy and Memphis Minnie had been among the early adopters of the electric guitar in the early forties; Muddy Waters first heard the instrument from him, but Bill soon abandoned it, preferring the sound he had grown up with. Neither was he a fan of the new sophisticated "cool" bebop jazz that had developed stateside during the war. In his 1952 Paris interview with Alan Lomax, Broonzy complained about producers telling him he had to change his harmonies and the way he played: "These young boys playing this here bebop? They tells me the blues is old-fogey-ism (Land Where the Blues Began, 1995, p. 454), and in his autobiography, Big Bill Blues, Broonzy bemoans the fact that "some Negroes tell me that the old style of blues is carrying Negroes... back to slavery; and who wants to be reminded of slavery? And some say this ain't slavery [time] no more, so why don't you learn to play something else? ... I just tell them I can't play nothing else."
When Alan Lomax visited Broonzy in Chicago to interview him in 1946, Bill introduced him to fellow musicians harmonica player Sonny Boy Williamson and pianist Memphis Slim. Some time later that year, Bill mailed Alan a six-page manuscript answering some of Alan's questions about the blues and about his life. Bill's ambition to tell his story to a wider public possibly had its origins here. In July of that year, Broonzy traveled to New York to sing at a Hootenanny given by People's Songs in New York, where he introduced "Black, Brown, and White," to an enthusiastic audience of mostly white progressives and civil rights activists. Soon he was a performing regularly at the Chicago branch of People's Songs, appearing with Pete Seeger and Doc Reese, among others. On November 9, 1946, he returned to New York to perform with Sidney Bechet and Sonny Terry at Alan Lomax's Blues at Midnight, one of a series of bi-weekly Midnight Special concerts at Town Hall, also sponsored by People's Songs. This concert was so successful that in February 1947 Alan Lomax put on a second Town Hall Blues at Midnight concert, this time entitled Honky-Tonk Blues at Midnight, at which Broonzy, Memphis Slim, and Sonny Boy Williamson were featured performers.
The day after their Town Hall performance Alan brought the three musicians to the Decca studios to record them. They had all been staying in New York as guests at Alan Lomax's Greenwich Village apartment, where they had socialized with Alan's wife Elizabeth and baby daughter Anna, and the three felt quite comfortable in Lomax's presence. At Decca, Alan sat on the floor at the musicians' feet, changing the discs in the small portable recording machine, while Broonzy asked the other two about the origins of the blues. Perhaps forgetting at times that their words were being recorded, they began answering the question by explaining that most blues deal with the trials and tribulations of love. Soon, however, they all started talking frankly and openly among themselves about conditions for black people in the Jim Crow South, mentioning lynchings and other abuses - such as summary executions of black workers by levee work-crew bosses. They recalled how dangerous it was for a black man to be perceived as clever at figures, or to be seen reading newspapers such as the Chicago Defender, which used to be read aloud in secret. "They recalled the challenges of life in the Mississippi work camps where the penitentiary stood at the end of the road waiting to receive the rebellious. Then, overwhelmed by the absurdities of the Southern system they had described, they laughed their way to the end" (Alan Lomax, liner notes to Blues in the Mississippi Night.) It was a side of Southern life that was normally taboo for blacks to mention and that white people, especially white Southerners, resolutely closed their eyes to, in deference to the prevailing dogma that black people were contented with their lot. 
They had put on record the unknown Southern story with all of its violence, tragedy, and absurdity, exposing things that Twain didn't know and Faulkner didn't tell us. To me it seemed that a new order of documentation had emerged, in which members of a tradition presented their own cases to each other [N-DASH]– unscripted, unprompted, and without an intermediary. But Big Bill and his friends had a different reaction. - Notes to Blues in the Mississippi Night
When Lomax played the recordings back to them, the men insisted that he not tell anyone they had made them. "You don't understand, Alan. If these records came out on us, they'd take it out on the folks down home - they'd burn them out and Lord knows what else." The realization that the terror that enforced the Southern system should reach as far a New York and Chicago was sobering and disturbing to Lomax. He honored their wishes, concealing their identities until all three men were dead. Later that year, however, with Broonzy's permission, he read excerpts from the interviews aloud at a meeting of the American Folklore Society (they were later included in Alan Dundes's anthology, Mother Wit from the Laughing Barrel: Readings in the Interpretation of Afro-American Folklore, University Press of Mississippi, 1973, 1990). Selections from the transcripts were printed in fictionalized form under the title "I Got the Blues" in the Summer 1948 (pp. 38-52) issue of Common Ground, an influential quarterly magazine dedicated to the promotion of cultural diversity, whose editorial board included Langston Hughes, Thomas Mann, and Lin Yutan. 
For ten years Lomax held back the release of the audio recordings. They were finally issued, with additional material recorded elsewhere, in England in 1957 as an LP album, Blues in the Mississippi Night, accompanied by extensive liner notes, including interview transcriptions, with date of recording backdated five years and the location given as rural Mississippi. The LP made the British magazine Melody Maker's list of top selling jazz discs for three weeks. In 1959, Rykodisc re-issued it in the United States with the liner notes (but no transcriptions), retaining the fictitious date and setting, and with the performers identified only as "three Mississippi Delta bluesmen." Though not a best seller, the American LP recording was influential (for example, it was one Johnny Cash's favorite recordings) and was re-issued several times. The 1959 United Artists release (UAL 4027) also retained the fictitious setting. Finally, in 1990, when all three men were dead, Ryko released the restored, uncensored interview (RCD 90155) on LP, with the real names of the performers. The 1999 CD reissue, Blues in the Mississippi Night (Rounder CD 82161-1860-2), reproduces Alan Lomax's original notes, along with transcripts of the interview and song texts and also includes pertinent added field recordings and new biographical portraits of the performers written by Matthew Barton, now curator of recorded sound at the Library of Congress.
Until the late forties, Broonzy continued to record and perform live to a dwindling black public, even as the music he specialized in was falling out of favor with it. At the same he cultivated a mostly white audience of blues and folk music aficionados, developing a new repertoire of traditional songs accompanied by his solo acoustic guitar or solo guitar and bass. In 1948 his old partner Sonny Boy Williamson was murdered; and another colleague, Major "Big Maceo" Merriweather, whom Broonzy later eulogized in his autobiography as one of the greatest of all blues singers, succumbed to a stroke. That year, which coincided with a prolonged strike by the American Federation of Musicians, Broonzy made no recordings. The Bluebird era was over. The following year he switched to Mercury Records.
In 1950, Bill joined singers Win Stracke and Larry Lane in Come for To Sing, a revue narrated by Studs Terkel of folk songs, blues, and Elizabethan songs that traveled the college circuit. When the cast visited the State University of Iowa in Ames, Broonzy, who was in poor health and needed a break, decided he wanted to stay there. Through friends of Studs Terkel in the University of Iowa's English department, he obtained a job as custodian of the men's dorm and living quarters in one of the Quonset huts built for the burgeoning post-war GI Bill student population. 
Bill was regarded as something of a celebrity in Ames, and he occasionally performed both at the college and at gigs in Des Moines and Chicago. Bill had decided to write an autobiography that would tell the real story of the blues. Perhaps with that end in view, he enlisted the help of friendly undergraduates in making up some of the deficiencies of his earlier education: he later told people that he "learned to read" in Iowa. His Iowa years are chronicled in Leonard Feinberg, "Big Bill Broonzy's Life in Iowa," in Outside in: African American History in Iowa, 1838-2000, edited by Bill Silag with Susan Koch-Bridgford and Hal Chase (Des Moines: State Historical Society of Iowa, 2001).
In 1951, with the help of the French jazz critic Hugues Panassie, Broonzy performed in Paris and then toured Europe, one of the first bluesmen to do so. The following year, he returned to Europe with pianist Blind John Davis, performing standard blues, traditional folk tunes, and spirituals. To meet the demands of his revived career and new audience, Broonzy had added more spirituals and traditional songs to his repertoire and had changed his style. His voice had roughened somewhat (perhaps from disease) and as a soloist, he could use freer rhythms than had characterized his former, dance-oriented blues; and his guitar playing gained a new sophistication. When asked to define folk music, he famously observed, as reported in Time, that "I guess all songs is folk songs, I never heard no horse sing 'em."
Bill and Alan met again in 1952 in Paris, where Alan recorded a two-hour interview of songs and talk on such subjects as pride, race, and black culture in America. (Lomax archives MP3CLIPS "BigBillBroonzy," T100-T1008). Lomax used extensive excerpts from these intimate sessions in his book about the Mississippi Delta, The Land Where the Blues Began.
On this second European tour, Broonzy performed the concerts later issued on recordings as the Amsterdam Live Concerts of 1953, in which his songs and introductory remarks frankly addressed racial problems in the US. In Holland, he met and fell in love with a Dutch woman, Pim van Isveldt, and together they had a son, Michael. 
When Win Starke and Studs Terkel's folk song revue Come for To Sing was revived in 1952 as a Monday night fixture at Chicago's prestigious Blue Note jazz club, it provided Broonzy with a valued source of steady income. He also found work for several summers during this period as a cook at the Circle Pines Center, a left-wing summer camp in Hastings, Michigan, sometimes performing there, as well, with visiting folk singers like Pete Seeger.
Bill made several more tours, performing in Europe, as well as in Africa, South America, and Australia. English audiences were especially appreciative. His recordings sold well and influenced many British musicians, including a youthful Eric Clapton, whose band, Derek and the Dominoes, later covered Broonzy's "Key to the Highway." Increasingly, Broonzy was able to make a living with his music, something that had evaded him even when he was popular early on in his career.
Broonzy observed with pleasure the impact the blues were having on popular music, savoring the recognition he was receiving for his role in their promotion. A frequent guest on Studs Terkel's Chicago radio shows, Broonzy told Terkel, speaking of Elvis Presley, "I like what he's doing. He'' rocking the blues, that's all he's doing...  Rock and roll is here to stay because it comes from natural people. Rock and roll is a natural steal from the blues, and the blues'll never die. The blues can't die because it's a natural steal from the spirituals." But later Broonzy was more ambivalent about Ray Charles's blend of blues and gospel, saying, according to Peter Guralnick in The Listener's Guide to the Blues, "He's mixing the blues with the spirituals. He should be singing in church."
 
In the few years remaining to him, Broonzy kept busy. He recorded The 1955 London Sessions for Chess, the most important postwar Chicago blues label, and for Verve, the material issued as Last Sessions(recorded 1955, released in 1957). His long-planned autobiography, Big Bill Blues: William Broonzy's Story, written with the aid of Danish writer Yannick Bruynoghe, was published by Cassell & Co in 1955 (reissued by the Da Capo Press in 1992).
Broonzy traveled the Parisian nightclub circuit in 1956, the same year he appeared in the documentary films Low Light and Blue Smoke and Big Bill Blues. On his return to the States, he became a founding faculty member of Chicago's
Old Town School of Folk Music. He was actively performing in the Chicago area in 1957, when diagnosed with throat cancer. Unable to use his voice in his final months, he continued to perform on the guitar. He died on August 15, 1958, in an ambulance on the way to a Chicago hospital. He had summed up his life and career in his autobiography a few years earlier:
When you write about me please don't say I'm a jazz musician. Don't say I'm a musician or a guitar player - just write Big Bill was a well-known blues singer and player and has recorded 260 blues songs from 1925 up till 1952; he was a happy man when he was drunk and playing with women; he was liked by all the blues singers.
After his death his colleagues paid him heartfelt tribute, remembering his helpfulness; "Big Bill," Muddy Waters recalled in an interview, "that's the nicest guy I ever met in my life. He first say I had it. I guess he was the cause of me going to England the first time, you see... He told 'em, "You ain't heard nothin' till you hear that young boy from Mississippi... . It's young Muddy Waters from Clarksdale, Mississippi. You gotta get him over here." (Jim O'Neal and Amy van Singel, The Voice of the Blues: Classic Interviews from Living Blues Magazine, New York, London: Routledge, 2002, pp. 172-73). And Memphis Slim called Bill "the greatest that I have known. There may have been some better, but I didn't know them. He was a wonderful person and a lovely artist." (Jazz Journal: 14: 10 [October 1961]: 5). Big Bill Broonzy was inducted into the Blues Hall of Fame in 1980.