by Michael Corcoran
It sure seemed quiet for 10 a.m. on a weekday, when John A. Lomax, who recorded folk songs for the Library of Congress, knocked on the front door of a six-room shanty on the northern bank of the Colorado River. Maggie Gant answered, still in her bedclothes. The children were still asleep, the mother of eight whispered.
"Last night we all got to singing and dancing. We didn't go to bed until two in the morning," she told Lomax, which he recalled in [ITAL]Our Singing Country[/ITAL] his 1941 book that contained five songs collected from the Gants. "The singing kept us so happy," Maggie Gant told Lomax, "we couldn't go to sleep."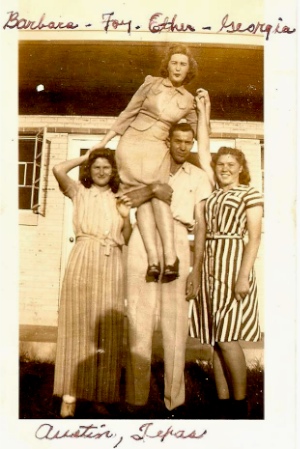 It was 1934, during the depths of the Depression, but the Gant family of dispossessed sharecroppers was rich in music. Lomax and his son Alan made more than 40 primitive recordings of the Gant family, whose vast repertoire ranged from jailhouse ballads and play ditties to cowboy songs and minstrel tunes. In retrospect, the most prominent of those was "When First Unto This Country a Stranger I Came," which Joan Baez sang live and Jerry Garcia and David Grisman recorded in 1993. They all learned it from the 1960s group, the New Lost City Ramblers, who heard it from the Gants.
Mike Seeger (Pete's half-brother) of the New Lost City Ramblers and his sister Peggy knew the song growing up, as their mother, composer Ruth Crawford Seeger, had edited and transcribed the music from the Lomaxes' Library of Congress recordings for publication in Our Singing Country.
If Maggie Gant and her 17-year-old daughter, Foy, hadn't sung the poignant song about a jilted lover-turned-horse thief into the Lomaxes' disk-cutting phonograph recorder, it almost certainly would have been lost forever.
The Lomax family, based in Austin, lived to keep such songs of the working-class people alive, lugging their 315-pound recording machine to prison work camps, Cajun settlements, fishing villages, cattle ranches, the hills of Kentucky, the Rio Grande Valley and even Haiti to find words and music that told the story of a culture.
With the Gant family of singers, led by mother Maggie (father George wasn't very musical), the Lomaxes found a treasure in their own backyard. In a note in the Lomax family papers, archived at UT's Center for American History, John Lomax wrote, "The Gant family in Austin, Texas has a repertoire of about two hundred genuine folk-songs. We only had just begun the job of recording these tunes when we left town."
The Lomaxes recordings of the Gants' material may have covered only a fraction of their repertoire, yet it's a body of work that puts the Gants as "among the most important informants on traditional music that no one's ever heard of," according to Minnesota musician/folklorist Lyle Lofgren. The family's list of songs passed down was "astoundingly broad," Lofgren said. "It included many rare versions of archaic British ballads, the sort you might expect to find, if you were lucky, in some remote holler of the Appalachians, but probably not in Austin."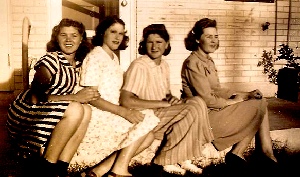 The mystery behind the music has made the Gants' story all the more intriguing. Even the Library of Congress, which keeps a thin file of info on the Gants, did not know until a few months ago that one member of the family, 86-year-old Ella Gant, was still alive and living in Utah. But the biggest question has always been this: Where did this family of Mormons, originally from East Texas, learn some extremely rare songs of so many different styles?
A clue came with the family's recently discovered genealogy, which daughter Foy Gant Kent registered with the Mormon church before she died in Houston in 2008 at age 90. Maggie Gant's maternal grandmother, Lavinia "Lucy" Brown, was born in Wales, "the Land of Song," which has a rich ballad tradition. Maggie's mother, Sarah Reeves, was born and raised in the Tennessee mountains but moved to Texas before Maggie was born in the East Texas town of Lone Oak in 1893. Lavinia Brown Reeves, the Welsh wellspring from which the songs most likely came, died in Grayson County, about 60 miles north of Dallas, in 1899.
The Gant family's path to Austin can be charted according to where the children were born, starting with oldest son Nephi in the Northeast Texas town of Mineola in 1913. The next four - Ether, Foy, Adoniron and Ella - were born just a few miles south of Mineola, when the family lived in Kelsey, the largest Mormon colony in the state. Georgia came next in Altus, Okla., in 1925; and the youngest, Trovesta Mae, was born in 1929 in the Texas Panhandle town of Shamrock, from which the family moved to Austin after a severe drought dried up farm work. The date and birthplace of Glida Koch, Maggie's daughter from an earlier marriage, are not known.
George, Maggie, and the kids arrived in Austin in 1933 looking for work and, according to Lomax, went on relief at times. The two oldest kids, Glida and Nephi, started families and lived together in a house at 1115 E. Third St. The rest of the family lived in the riverside shack where the recordings were made, about a half-mile west of Deep Eddy Pool.
In her 2008 memoir Sing It Pretty, daughter Bess Lomax Hawes, who was twelve when she met the Gants, recalled that the family's house on the river was constantly being flooded. "But that old river never could stop the flow of their extraordinary repertory of Anglo-American balladry and folksong."
The Gants recorded only for the Lomaxes, in four sessions spread out over two years. Then World War II hit, the acetate then being used for field recording discs became restricted to the war effort. The Gant family split time between Houston, where there were jobs in the Ship Channel, and San Angelo, where the parents moved with their three youngest. Maggie and the kids never recorded together again after 1936.
But Austin's first family of song didn't stop singing. Maggie's grandson Edward Gant recalls Friday night folk song sessions in Houston led by Foy and her brothers Ether and Ado, as Adoniron was called. "There was music at every family gathering," said Ether's son Edward, who owns a Houston architectural firm.
Tim Gadd of Houston has a box full of cassettes of his grandfather Ado, who died in 2005 at age 84, singing and playing the guitar. Several of the recordings feature duets with Ado and Ether, who both worked as welders and married sisters. But after Ether died in a 1977 car accident, Ado mainly recorded himself playing along with singers on TV.
Ella Gant McBride's granddaughter Julie Johnson said her grandmother wrote songs about each of her granddaughters. "The last time I saw her she broke into the 'Julie' song as her greeting to me," said Johnson, who lives in Florida. Ella Gant McBride had broken her hip two months ago when she went out dancing, according to granddaughter Marianne Hewlett of El Paso, and was not up to being interviewed for this story.
The Lomax family background - patriarch John got his master's degree in English literature from Harvard University - was different from the Gants', but they had the Great Depression in common.
Although he made his mark as a folklorist with his 1910 anthology Cowboy Songs and Other Frontier Ballads, John Lomax had moved on to other pursuits and was working for a bank in Dallas during the 1929 stock market crash, which left him unemployed. Even worse, his wife Bess died in 1931, leaving him with two school-age children to raise. Oldest son John Jr. encouraged his father, then 65, to get back into "ballad hunting," a passion born from the cowboy songs Lomax heard growing up on a ranch in Bosque County, about 40 miles north of Waco.
Things began looking up. In 1933, John and an 18-year-old Alan Lomax began collecting songs for the Library of Congress, which named John Lomax the honorary curator of its Archive of American Folk Songs. The next year, John Lomax married Ruby Terrill, Dean of Women at the University of Texas, and moved to Austin to live with her.
The Library of Congress provided the Lomaxes with a bulky recording machine (paid for with a grant obtained for the library by Lomax) which fit into the family's Ford after the back seats were removed. Superior to the old wax cylinder recorders, the new machine cut grooves onto an aluminum disk as the songs were sung, giving the singers all the reward they wanted when Lomax played back the record they'd just made. (In 1934, they acquired an improved model that used aluminum disks coated with acetate.)
According to John Lomax biographer Nolan Portfield, the Lomaxes became aware of the Gants through budding folklorist John Henry Faulk, then a 21-year-old UT classmate of Alan Lomax's. Soon the Gants were starting to become well known to many in the Austin area and proudly accepted an invitation to play at the State's Centennial Celebration in Dallas in 1936.
But earlier that year, tragedy hit the singing family hard. Oldest boy Nephi, 22, had been murdered on Feb. 1 after a fight at Ollie's Place at the corner of East Fourth and Waller streets. According to a never-published story by Alan Lomax (now in the Library of Congress file), Nephi, who had two hungry babies at home, had gone to the beer joint to try to borrow money from a bartender friend or "maybe he could pick up a few nickels singing ... because he was the best singer in the family."
At Ollie's, Nephi was challenged to fight by a man who'd just gotten out of prison 24 hours earlier and was "already crazy drunk and looking for trouble," according to Alan Lomax. Nephi got the best of 21-year-old Howard Armstrong, who went out to his car, got a gun and shot Nephi in the head through the glass door. Sporting a black eye, Armstrong turned himself in to police the next day and claimed self-defense.
But the jury deliberated less than an hour before convicting Armstrong and sentencing him to 30 years in prison.
At Nephi's funeral, Alan Lomax noted that the family "cried so much that their eyes and cheeks were red with salt burn." Calling the Gants "a loving bunch of poor people," Lomax wrote of the incredible pain they surely felt at losing a brother, a son.
"They knew what it was like to be hungry and cold and not have a place to call home; but they'd been strong under all this suffering and sorrow because they loved each other so much."
After her children's father, George, died in 1943, Maggie Gant remarried twice and eventually moved to Arizona, where she ran a trailer court. She died in 1977 in Houston and, according to Mormon records, is buried in the same cemetery in San Angelo as George Gant.
Lofgren, the Minnesota folklorist, said the Gant family singers had "arrived seemingly from nowhere and disappeared again, at least as far as the folk song community was concerned." In fact, only in recent months did most of the Gants' descendants discover the extent of the family's influence.
"For so many years we kind of thought that Grandma's stories about her family being recorded were, you know, exaggerations, tall Texas tales," said Johnson, who recently contacted the Library of Congress and was stunned to receive in the mail several discs of recordings made by her grandmother Ella's family. "Now we are wondering if all the other crazy stories are also true."
This article first appeared in the Austin American-Statesman on April 26, 2010, as "Discovering Keepers of Folk Music" and is reprinted with the permission of the author.
Note: Songs collected from the Gants that appear in John A. and Alan Lomax and Ruth Crawford Seeger's Our Singing Country are: "Toll-a-Winker," pp. 108-109; "Married Me a Wife," p. 131; "Tee Roo," pp. 152-54; "Black Jack Davy," pp. 157-59; "Adieu to the Stone Walls," pp. 311-13; and "When First To This Country a Stranger I Came," pp. 315-16.