by Ellen Harold and Peter Stone
From the 1940s through 1960, Burl Ives was considered America's most authoritative interpreter of American folk songs. A mainstream figure (better known than Pete Seeger and Woody Guthrie), his penetrating, tenor voice with its unique timbre was recognized by millions. New York Times music critic John Rockwell called it "genteel in expressive impact without being genteel in social conformity. Alan Lomax described it as "sweet and full, high and clear, like a bird singing in the woods on a sunny morning. The song rolls out like water bubbling out of a mountain spring. And it moved people." Ives' performance style, in which melody and text took the foreground, epitomized the classic Anglo-American "transparent" ballad singing ideal; while his flawless phrasing, even tone, expressive dynamics, and clear diction evidenced his formal vocal training. No less a judge than Carl Sandburg once called Ives "the mightiest ballad singer of this or any other century." As a singer for children he was without peer, yet today he is chiefly remembered as a performer of corny novelty songs, and his reputation is forever compromised by the shadow of the McCarthy era.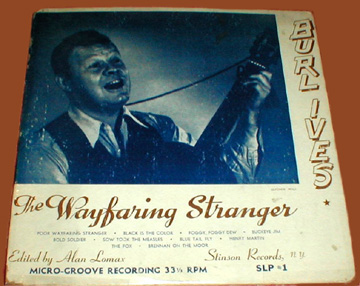 Ives came by his interest in folk music naturally. Of Scots-Irish descent, he was Born Burl Icle Ivanhoe Ives in 1909 in Jasper County, southern Illinois. As a child, Burl learned hundreds of Irish, Scottish, and English ballads and folk songs from his mother, Cordelia "Delia" White and his pipe-smoking grandmother, Kate White. The Whites were originally from Kentucky, via Brown County, Indiana, which Alan Lomax (c. 1945) called "until recently, a folk song collector's paradise." He recalled that his parents began as tenant farmers who moved continuously in a fruitless search for better land. "The rich Illinois land doesn't stretch down to Jasper and except for the bottom land you can't raise anything but nubbins there. . . . From the time I was born until I was school age I remember we lived on four different farms. There were seven of us children," Ives recalled, "three girls and four boys, and we always did a good bit of singing in the family." He claimed that virtually before he could walk he knew "The Riddle Song," "Barbara Allen," "The Bailiff's Daughter" "Lord Thomas and Fair Eleanor" and lugubrious Victorian pieces such as "The rich man sleeps on his velvet couch, / And dreams of silver and gold, While the orphan girl on her bed of snow, / Sighs — 'cold, so cold, so cold.'" (See liner notes to his Stinson album, Wayfaring Stranger, edited and with notes by Alan Lomax). Ives wrote of his grandmother:
To me her ballads brought a world shining with excitement and color; they brought people — like Barbara Allen dying of love and a lone lover sitting on top of a snow-covered mountain. I had never seen a mountain on the prairies of Illinois. Pictures, romance, passion, bravery, gallantry, sorrow, joy — she sang a storybook of tales culled through centuries and tempered by time into beautiful poetry. Kate loved the ballads and loved to sing them for the boys and girls, and that was her religion. I personally liked her point of view better than Grandfather's in regard to religion (Burl Ives, Wayfaring Stranger, London, 1952: Boardman, page 33).
When Ives was seven, his father abandoned farming to become a construction contractor, and the family moved to Hunt City (population 100)  It was then the family acquired Burl's first five-string banjo from a mail order catalog. While still in short pants the boy became so proficient that he began playing banjo and guitar at square dances, environments that to the consternation of his parents sometimes involved drinking and fighting. They must have been relieved when Burl switched to a religious repertoire:
One night, when he was about twelve the preacher asked Burl to sing at a church homecoming, the old fashioned Campbellite meeting where folks came in from ten miles around on horseback and buggies. Burl picked up his banjo and sang: "Forty years ago, forty years ago, / I wish I were a boy again, / Forty years ago" — sang it with such effect that, "old Bob Miller got shoutin' and climbed up a sapling tree singin' out 'Glory, glory' and 'Praise his sweet name!'" So young Burl began to be a favorite evangelist singer. He and his sister, Argola, appeared at all sorts of revivals and protracted meetings in and around Jasper County. A protracted meeting is a week-long revival at which, "The preacher takes up collection two or three times in an evening," says Burl. "And when he leaves nobody but the infidels in the county have a thin dime. They say there hasn't been any money in Jasper County since Billy Sunday came through." (Alan Lomax, liner notes to Wayfaring Stranger)  
A high school football star, the teenaged Ives also pursued music, and theater. In 1927, he enrolled at Eastern Illinois State Teachers College in Charleston (now Eastern Illinois University) as a history major, aiming to be an athletic coach, but his musical interests won out over studying. He appeared on radio, modeling his singing style on that of Bradley Kinkaid of the National Barn Dance on WLS radio in Chicago. In July of 1929, in Richmond, Indiana, he made a trial recording of "Behind the Clouds" for the Starr Piano Company's Gennett label, though the recording was rejected and destroyed a few weeks later. A "rebel without a cause" Ives chafed at the restrictions of Midwestern small-town life. Though by now disillusioned with of evangelism, he took a paid position as a tenor in a church quartet. A condition of the job was that he take voice lessons at church expense. He credits his voice teacher, a French woman, Clara Lyon, with introducing him to a wider world of books and music and with urging him to go to New York. He told various stories, all plausible, explaining how in 1930 he came to drop out in his third year of college: he felt the call of the road while listening to a college lecture on Beowulf and left school forthwith. He recalled (in a 1990 interview in The Decatur Herald and Review) college President, Dr. Livingston Lord, looking at his grades and telling him, "'I believe you have too restless a spirit to be an educator. You'd better look around a little.' My clothes and things were in the fraternity house, but I didn't want to bother with them. I just went down the road." Another legend has him being expelled for participating in an "excursion" to the women's dorm, where he was found "a tad intoxicated" playing the piano in the lobby.
For several years Ives rode boxcars, busked with guitar and banjo, did odd jobs, learned new songs, and tried to break into radio, before making his way to New York in 1933. There he worked as a busboy at International House, acted in summer stock, and sang in churches and madrigal groups. He took classes in acting and studied voice with Ella Töedt of Julliard, who insisted he take classes in music theory at NYU. Töedt cured his sinus blockage, Ives believed, by making him do falsetto exercises for a year. When she heard him sing folk songs, she was enraptured, exclaiming that "The minstrels of old must have sung that way." Thus encouraged, Ives began to build up a following, singing folksongs at weekly gatherings at International House and at benefits for Jewish refugees and the Spanish Civil war:
To me, the Republican elected government [of Spain] stood for freedom and the people, democratic ideals and just the common decencies I'd learned from my father years before. I felt that the Spanish war was a moral fight and I was part of it. Every man would feel its effects (Burl Ives, The Wayfaring Stranger, p. 204)
In 1938 Ives and his good friend, actor and fellow-Midwesterner Will Geer, traveled to Washington, D. C., where on July 9 at the Coolidge Auditorium of the Library of Congress, Alan Lomax and Kay Dealy recorded Geer singing his satirical "Ballad of Wives and Widows of the Presidents and Dictators" (AFS 1769A) accompanied by Burl Ives's guitar; followed by Ives singing  "The Parson's Daughter," "Cod Liver Ile [Oil]," and "Three Crows" (AFS 1769 B1, AFS 1770 A1, AFS 1770 A2).
In his autobiography Ives wrote that his NBC radio debut as "The Wayfaring Stranger" in May 1940 was aborted when preempted by the news that France had fallen to the Nazis. Then, in September, 1940, Alan Lomax produced the first of several radio series for CBS: American Folk Songs, Wellsprings of Music, broadcast in schools nationwide, and the short-lived but influential prime-time series Back Where I Come From, written by Lomax and directed by Nicholas Ray. The show's title came from an incident they had observed at Barney Josephson's Greenwich Village nightclub, Café Society, in which a tourist loudly objected to the club's inter-racial atmosphere, saying that such things were unheard of "back where I come from." It stressed the America is, on the contrary, a multi-cultural mosaic of people from different ethnicities and backgrounds; guests swapped stories and anecdotes as well as music. Ives, Woody Guthrie, The Golden Gate Quartet, Lead Belly, Pete Seeger, and Josh White performed regularly on both shows.
Lomax was so taken with Ives that, over the objections of his father, he leaked material for him to perform from the as yet unpublished manuscript of Our Singing Country. The elder Lomax, perhaps detecting in Ives a tendency to exaggerate, was also irked when he heard Ives on the radio taking credit for finding "The Midnight Special" and others taken from Lomax books (Nolan Porterfield, The Last Cavalier,1996, p. 436–37).
In March of 1941 the cast of Back Where I Come From performed at a military-themed White House "command performance" arranged by Alan Lomax and Archibald McLeish before an audience that included the Secretaries of War, Navy, and the Treasury, and their wives. Time Magazine found it the interracial makeup of the show worthy of note, terming Ives the "chief white singer."
A onetime Eastern Illinois State Teachers College footballer, Burl Ives bummed around the U. S. with a guitar. His specialty is Midwestern songs. Back Where I Come From, directed by Nicholas Ray, comes mostly from the prodigious memories of Singer Ives and Scripter [Alan] Lomax. Ives can sing for hours on any subject — love, death, the open road. For one ballad alone, "There Lived an Old Lord on the Northern Sea," he knows 50 stanzas.
Okeh Presents Burl Ives: the Wayfaring Stranger (Okeh K-3) issued in August, 1941 marked Ives' recording debut. It comprised twelve songs, oddly, not including the eponymous "Poor Wayfaring Stranger," on 10-inch 78s: "Wee Cooper O'Fife," "The Riddle Song," "Cowboy's Lament," "Tam Pierce," "I Know Where I'm Going," "I Know My Love," "Peter Gray," "Sweet Betsy From Pike," "On Top of Old Smoky," "Darling Cory" "Leatherwing Bat," and "Cotton-eyed Joe." When a new version was issued by Asch in 1944 after the end of wartime restriction on acetate recordings as Burl Ives: the Wayfaring Stranger, the album contained new material, including the first release of Ives's two signature songs, "Blue Tailed Fly" (a minstrel-show tune said to be a favorite of Abraham Lincoln) and "Poor Wayfaring Stranger."
In his autobiography, Ives wrote that he thought of presenting himself as the "Wayfaring Stranger" after reading some lines by Thomas Wolfe:
Which of you has known his brother, 
Which of you has looked into his father's heart, 
Which of us has not remained a prisoner pent. 
Which of us is not forever a Stranger and alone?
Alan Lomax's album liner notes identify "Wayfaring Stranger," as a "great and moving spiritual" on a par with "Swing Low Sweet Chariot" and "Go Down Moses." For Alan, this song and others with a similar Calvinistic pilgrim-theme summed up the emotions and aspirations of our nation of immigrants and pioneers, torn from their roots in a sometimes lonely quest for better conditions. As he and his father explained in Our Singing Country:
These people have been wanderers, walking and riding alone into the wilderness, past the mountains and the broad rivers, down the railroad lines, down the highways. Like all wanderers they have been lonely and unencumbered by respect for the conventions of life behind them. Remembering the old songs in their loneliness, throwing up their voices against prairie and forest track, along new rivers, they followed the instincts of their new experience, and the old songs were changed so as to belong to their life in the new country. New songs grew up inconspicuously out of the humus of the old, thrusting out in new directions in small, but permanent fashion. There grew up a whole continent of people with their songs as much a part of their lives as their familiar ax, gun, or silver dollar. It took them long to recognize that new songs and new lives had been made here. (John A. and Alan Lomax, Introduction to Our Singing Country [1941], page xxii).
When Back Where I Come From ended, Ives was briefly given his own shows on CBS: The Burl Ives Coffee Club and God's Country and was also cast in several shows produced by Norman Corwin, including Carl Sandburg's The People, Yes. Drafted by the military in 1942, he was posted to Fort Dix, New Jersey, then to Camp Upton, Long Island, where he joined the cast of Irving Berlin's This Is the Army (1942) as well as performing on armed forces radio. He was transferred to the Army Air Force but, in September 1943, was discharged honorably, and in December returned to New York City to work again for CBS radio. On March 21, 1944 he performed as the singing narrator of Millard Lampell and Earl Robinson's cantata The Lonesome Train, about the death of Abraham Lincoln. That year he also sang and narrated The Martins and the Coys, one of a series of radio "ballad operas" broadcast over BBC (but not in the U.S.) in connection with the war effort and written by Elizabeth Harold Lomax with music chosen by Alan Lomax (See Rounder CD 11661-1819-2 in the Alan Lomax Collection) that starred Will Geer, Lily Mae Ledford, Woody Guthrie, Pete Seeger, Fiddlin' Arthur Smith, Sonny Terry, Hally Wood, and others. He also cut a single on Stinson, "Solidarity Forever," as a member of the Union Boys, a floating group, that at times included Josh White, Pete Seeger, Woody Guthrie, and Alan Lomax.
With his 1945 performance on Broadway as "the ballad singer" in Walter Kerr and Elie Siegmeister's "Sing Out, Sweet Land: A Musical Biography of American Song, co-starring Alfred Drake and Celeste Holm, Ives established himself as America's premier folk interpreter of traditional folk music. Produced by the Theater Guild, this pageant of American history as told through its folk and Tin Pan Alley songs, gave him a chance to perform such favorites as "The Big Rock Candy Mountain" and "The Blue Tail Fly," solidifying the repertoire that he would continue to interpret for the rest of his life. On Dec. 6, 1945, he married 29-year-old scriptwriter Helen Peck Ehrlich. They adopted a son, Alexander, and divided their time between a New York apartment and their California ranch, "Ballad Farm."
In 1946, now a star under contract to 20th Century Fox, Ives made his Hollywood movie debut in the film Smoky, cast as "The Singing Troubadour." The movie, based on Will James' beloved novel about a cowboy horse, has unfortunately never been issued on tape or DVD format. He also appeared as "Lonesome" in the Audie Murphy western, Sierra (1950).  He also began to produce a stream of hit singles, such as "Lavender Blue," a pop song loosely based on an old nursery rhyme, as well as folk-song albums on Decca and Columbia aimed at children and adults.
Though he named others, Alan Lomax, who was the editor of Decca's American Folk Music Series and the disc jockey of Mutual Broadcasting's Your Ballad Man (featuring a mix of jazzy pop, hillbilly), was perhaps thinking of Burl Ives, when he wrote in Vogue Magazine:
Nineteen forty-six will be remembered, among other things, as the year folk songs came to town. There is likely to be a ballad singer in Scene 1 of any new Broadway show, nowadays. . . . In Town Hall, at Irving Plaza, in Times Hall and Madison Square Garden, in fact, all around the town — Lead Belly, Woody Guthrie, Josh White, Pete Seeger, Tom Glazer, Susan Reed, and many more step up to the microphone and entertain war-weary New Yorkers with songs as old as Scotch heather and political ditties as new as last week's headlines (quoted in Ronald Cohen, The Rainbow Quest, pp. 51–52.)
In the late forties, Ives signed the petition of the Committee for the First Amendment, organized by William Wyler, Humphrey Bogart, Lauren Bacall, and John Houston, to protest the House Un-American Activities Committee's investigation of the Hollywood Ten. He supported the presidential candidacy of Progressive candidate Henry A. Wallace. In 1950, their appeals exhausted, the Hollywood Ten went to jail. As the "hot" Korean war began, anti-Communist hysteria intensified. Entertainment executives from the movie and broadcasting industries met in New York and announced their patriotic decision not to hire anyone suspicious or controversial. Over President Truman's veto, Congress passed the McCarran and Smith Acts requiring the registration of "subversives" and making it illegal for them to have passports and travel. Ives found himself listed as a suspected Communist sympathizer in Red Channels, a booklet put out by ex-FBI agents, to help employers "vet" entertainers. To be removed a performer had to formally renounce his previous beliefs, humiliate himself by publicly declaring he or she had been a "dupe," and denounce his associates by name before Congress (a ceremonial requirement because the names of former Communists were already known to the F.B.I and the legislature). Ron Cohen quotes a letter Ives received in September 1950 from the administration of Washington University, where he was scheduled to perform, stating that the university had received some protests challenging his loyalty. "Of course Washington University 'steadfastly maintained that academic freedom, which means the intellectual freedom of its employees, must not be infringed,' but, since the, ' Communist Party does not allow its members this kind of freedom' the University ' will not allow members of that Party to use its classrooms and platforms'" (The Rainbow Quest, p. 80). Ives replied by defending his support of unions and other causes (as he had in his autobiography, The Wayfaring Stranger, first published in 1949). He denied having ever been a Communist. It was not known what, if any, other pressures were put on Ives; from 1950 to 1952, it was not uncommon for people to be shadowed by agents and interrogated at home. Ives's rendition of "On Top of Old Smoky" made the top ten of the hit parade, but folk music was not heard on television. In 1951, the Weavers, hitherto very popular, abruptly lost all their bookings because of blacklisting.
In 1952, Ives took over the lead role in Lerner and Lowes's Broadway musical Paint Your Wagon, which ran from November 1951 to July 1952. In April, famed director Elia Kazan took a newspaper justifying his own appearance as "friendly" witness before the House Un-American Activities Committee and urging other to do the same. On May 20, Ives also decided to go before Congress "voluntarily." In his testimony he defended folk music as patriotic, not subversive. He distanced himself, as required, from his former associates, explaining that his first audience had just happened to have been "various unions and so-called progressive organizations." "I am very sorry that I have to bring up names in this manner," he said, "because I would like to be able not to mention other names, but I can't [avoid it]." He thanked the Committee "for the very fair and democratic way in which you have heard my story. I believe that in no Communist country would such a hearing be possible at all" (quotes from Ron Cohen's Rainbow Quest, p. 80). According to Cohen, Ives named four people, including his former publicity director, Arthur Meltzer and his friend Richard Dyer Bennet (whose bookings were cancelled forthwith and whose career basically ended), but the popular impression was that he had named many more. Sing Out! Magazine (in its 1995 obituary of Ives) wrote that he "named more than 110 people he knew to have left-wing or communist leanings. Many of these names were previously unknown to the committee." Ed Cray's biography of Woody Guthrie, Rambling Man, (2004) says that "according to newspaper accounts" he named "hundreds."
If the aim had been to sow discord and division in the folk singing community, that aim was accomplished. Some years later, the usually affable Pete Seeger, wrote an astonishingly vitriolic review of Ives's album of sea shanties, accusing him of "fingering, like any common stool pigeon, some of his radical associates of the early 40s. He did this not because he wanted to but because he felt it was the only way to preserve his lucrative contracts." Pete went on to describe Ives as "gross, gargantuan, talented and clever" and "not quite intelligent enough to be honorable." He concluded sententiously, "When he comes up before the bar of judgment let us be honorable enough to present his positive contributions, which have been many, before his sins are weighted on the other balance" (Sing Out!: [Winter 1957] 6: 4).  
Ives was able to continue to work and record prolifically, however. Interestingly, some of his new roles now took on a harsher turn. Playwright Tennessee Williams wrote the part of Big Daddy in Cat on a Hot Tin Roof (1955), directed by Elia Kazan, expressly for him. The play is a gingerly and veiled treatment of the topic of (repressed) homosexuality that was nonetheless sensationally daring at the time. In it, the wealthy plantation owner, Big Daddy, is a cynical, hyper-masculine "realist." Outwardly corpulent and inwardly rotting from cancer, he clearly symbolizes the hypocrisy of American life. "You said it yourself, Big Daddy," his son Brick taunts him, "mendacity is the system we live in." Ives repeated the role successfully in the 1958 movie, directed by Richard Brooks. In 1958, he won an Oscar for best supporting actor in The Big Country.  He also appeared in Show Boat (1954), East of Eden (1955), Desire Under the Elms (1958),  and Our Man in Havana (1959), based on Graham Greene's novel. In 1982 Sam Fuller cast him as a mean-spirited racist, in his last film, White Dog.  
He also did a lot of television work, most notably in the role the narrator, Sam the Snowman, in the 1964 animated TV children's special, Rudolph, the Red-Nosed Reindeer, which became an annual Christmastime classic. He also appeared as the eponymous O.K. Crackerby! (1965–66), in Pinocchio (1968), as a lawyer in The Bold Ones: The Lawyers (1969–72), and in the miniseries Roots (1977) to name a few. In the 1970s, Ives lent his name and image to the U.S. Bureau of Land Management's "This Land is Your Land, Keep It Clean" campaign.
The man who, in describing how he chose his repertoire, had told Alan Lomax: "Certain songs just ring true, that's all. Certain others just don't ring true, and those I don't sing" (liner notes to Wayfaring Stranger), was no longer so particular. In the early 1960s Ives had a succession of country hits, three of which topped the pop charts: "A Little Bitty Tear," "Call Me Mr. In-Between," and "It's Just My Funny Way of Laughin'" (for which he won a Grammy). He tried unsuccessfully to break into the folk revival with Burl Ives and the Folksingers Three, and even a sang version of and Bob Dylan's "The Times They Are A-changing," as well as doing standards like "Little Green Apples." He is best known, however, for his anodyne "Have a Holly, Jolly Christmas," "Rudolph the Red-nosed Reindeer" and his children's work with Disney's Buenavista and Disneyland labels. Yet Ives never abandoned folk music, continuing to put out books and albums of folk, featuring his old repertoire, as well as sea songs, religious music, and historical collections, most notably The Spoken Arts Treasury of American Ballads and Folk Songs (six LPs and an elaborate illustrated book, 1970), though he now stressed folk music's historical and patriotic qualities, rather than its role in energizing and promoting understanding.
Ives and his wife Helen divorced in 1971 and that same year he married Dorothy Koster Paul in London. The couple divided their time between their homes on Fidalgo Island, north of Seattle, Washington, and on Elbow Cay in the Bahamas. Ives's period of estrangement from his former colleagues in the folk singing community officially ended in 1993, when the by-then ailing singer performed "The Blue Tail Fly" in a duet with Pete Seeger, at a benefit concert entitled Folk Songs USA at New York's 92nd Street Y. Also on the program were Oscar Brand, Theodore Bikel, Art Garfunkel, the Chad Mitchell Trio, Odetta, Tom Paxton, Paul Robeson Jr., Eric Weissberg, and Josh White, Jr. He died of oral cancer in 1995 at the age of 85 and was buried in Mound Cemetery in Jasper County, Illinois. During the 1990s the Bear Family label reissued many of his earlier recordings.
Ives obituary in Sing Out! recalled:
Oddly enough, Ives' own left-wing sentiments were well-known to his friends. He had attended, with the others, scores of progressive rallies and gatherings. Yet, in an apparently incongruous explanation of why he attended, he said he was led to them by his dear and good friend, ballad singer Richard Dyer-Bennet. From that moment forward, Dyer-Bennet's career was over.
Woody Guthrie, nonetheless, visited Ives at Ives' Los Angeles houseboat sometime after the hear ings. Upon returning to New York, Guthrie related to Oscar Brand that Ives was "God's angry man. " "Who is he angry with?" asked Brand. "Himself," Guthrie said. "He's angry with himself."