by Peter Stone and Ellen Harold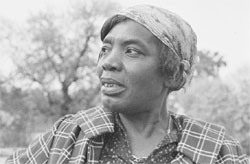 Mary Elizabeth "Bessie" Jones (Feb 8, 1902– July 17, 1984) was born in Smithville, Georgia. When she was still an infant her mother moved to her uncle's farm in the black farming community of Dawson, Georgia. There she met and married James Sampson, whom Bessie called "Poppa." ( Bessie never knew her biological father, though she was in contact with his family.) As a child, she attended school sporadically: "I never has went to school a whole term and I didn't get past the fifth grade; every school day I had to keep other people's babies and sometimes I had to work in the fields." This  "formal" education ended when she became a full-time nursemaid to a white family at the age of 10. She loved children, and few people could have had as much experience in looking after them. Significantly, Bess Lomax Hawes, in her introduction to Step It Down, written jointly with Jones, emphasized Jones's essential role, not as a carrier and documenter of folklore, but as a teacher; for such she felt herself to be. She was deeply aware of the socializing and educative function of  the songs, plays, and movement games she remembered from her childhood:
The children, they don't even know how to play those things now, see. But it's just good fun games, keeps you out of devilment, keeps you from fighting. I never had fights with children when I was little — didn't have time to fight, we had to play. When we wasn't eating or sleeping or working — and so that was it. But now they got time to talk about the grown things. —Step It Down: Games, Plays, Songs, and Stories from the Afro-American Heritage (1972; reprint, Athens, University of Georgia Press, 1987), p. 172.
The games, mostly from the British Isles, had been widespread among Southern black and white populations as a way to circumvent religious prohibitions against physical movement and dancing. As adapted by African-Americans they served as an important vehicle to transmit traditional African-derived dance movement and rhythmic styles that promoted group cohesion, nurtured individual virtuosity, and, as Bessie realized, helped make the players physically and mentally stronger. The songs, games, and stories of the past were a "spiritual survival kit," in Bessie's case, connecting her with the beloved figures of the past. To keep their memory alive she sought out young people to teach them to.
Bessie's mother, Julia, was a fine singer and dancer and played the autoharp. James Sampson, who did not sing, could nevertheless play most any instrument handed him; and all the men in the family sang or played the guitar or banjo, which they made themselves. Storytelling was equally important. Bessie knew and was close to all four of her grandparents. From them she learned some songs that were already over a hundred years old. Her grandfather Jet Sampson played the accordion. Enslaved in Africa and brought over to the Western Hemisphere with his five brothers, circa 1843, he died in 1941 at the age of 105. It was primarily he who taught Bessie about slavery and "the old ways."
Music, then, permeated Jones's life. After all, one can sing while doing other things and it costs nothing; singing served a primary educational purpose at Bessie's community church service on Sundays. On weekdays, when the meeting house was transformed into the schoolroom, hymns and school songs likewise functioned pedagogically; and children have always sung, danced, made up riddles, games, and plays that reflected their preoccupations: This was the invaluable "stuff" of her experience.
I remember a hundred games, I suppose... We had all kinds of plays...house plays, outdoor plays. Some... have songs ... some have just plays... just acts or what not...The parents... would have songs they would sing while they were quilting and we would listen.... And we would have egg crackings and taffy pullings and we would hear all those things —riddleses and stories and different things. That's why I'm so loaded [with knowledge] . ... And then I has a great remembrance of those things.
In 1914 Bessie Jones became the mother of a daughter, Rosalie. Though only twelve, she welcomed the baby, for her white employer had teased her by saying that she loved children so much she probably wouldn't ever have any of her own. She was persuaded to marry with some reluctance, however. The baby's father, Cassius Davis, (John Davis of the Sea Island Singers was his uncle) came from a singing family. He had traveled from Brunswick, Georgia, across from St. Simons and Jekyll Islands, to look for agricultural work inland. The couple altered their marriage certificate to make it look as though Rosalie had been conceived in wedlock in case Cassius was called up in World War I. When the war ended, Bessie moved to Milan, Georgia, where her mother relocated after re-marrying.
Her husband was kind, but Bessie wanted her freedom. She felt, understandably, that at twelve she had been too young to get married. In 1924 she left Rosalie with her mother to find work in Fitzgerald, Georgia. In 1926, Cassius Davis took ill and died at the home of his sister in Brunswick. Bessie and a group of friends decided to look for work in Florida, which was undergoing an economic boom. Bessie spent the next seven years in Florida (in Key Largo, Miami, and elsewhere in Florida), working variously as a domestic, laundress, agricultural worker, and cook. During this period she was far from a saint: she enjoyed playing cards, giving toasts;  she even made and sold moonshine. 1928 found her in Okeechobee working as a cook for farm workers. There s he met and married her second husband, George Jones, who came from St . Simons. The couple became migrant workers, following the spring crops north as they ripened, as far as Connecticut. Periodically they visited both George and Cassius's families in St. Simons and nearby Brunswick. On September 28, 1932, Bessie Jones found religion as a born-again member of the Pentecostal c hurch and adopted a more serious lifestyle. In 1933 she and George decided to settle on St. Simons , although they continued to work as migrant farmers during the picking season. Off-season Bessie worked as maid and cook.
Bessie's second child, George L., was born on St. Simons in 1935, her third, Joseph, in 1937.  She worked as a nurse for the children of wealthy white families living or vacationing in St. Simons from 1939 to 1945, when her husband George died. She continued to live and work there and was a founding member of the Harlem Church of God in Christ on St. Simons.
Life in the relatively isolated Sea Islands of Georgia and South Carolina had been somewhat less harsh for black people than elsewhere in the South. The white population was sparse, and many of the black residents, who included descendants of freed British slaves from the Bahamas, worked as boat loaders or were independent fishermen. They had retained and took pride in many of their African-derived customs and they spoke Gullah, a Creole language with African features. Their religion and music was conservative, they used no instruments (drums having been forbidden during slavery), only syncopated clapping; and, after church services they practiced a West African-derived ecstatic form of devotional dance known as the "shout." The polyrhythmic clapping, foot-tapping and "patting" that accompanied these activities distantly echoed the great drum orchestras and even the tonal talking drums of Africa, for they clapped and patted in tones (tenor, baritone, and bass) made by cupping the palms. This was true also in other places of the American South, but nowhere in so concentrated form as here.  
On St. Simons Bessie Jones met the Spiritual Singers of Coastal Georgia, an ensemble dedicated to the preservation of the ways of their forbears. They were so impressed with her "buoyant personality, extensive repertoire, and experienced singing style that they invited her to join their group... one of the only mainlanders to be so honored." Bessie "in her turn, felt at home with the Singers' dignity and with their pride in their African and African-American heritage — the same kind of pride and dignity that had been so carefully taught her by her own parents and grandparents" (Step It Down, xii–xiii). Singer John Davis said of Bessie, "Bessie can't shout, but she move just fine."
The Sea Island connection with spirituals harked back to the Civil War, when Boston abolitionist and literary figure Thomas Wentworth Higginson was stationed there. Mesmerized by the beautiful singing of the black Union troops (many of whom were not Sea Islanders, however, but free blacks from the North), he collected them in his book, Army Life in a Black Regiment (basis for the 1989 movie Glory). Subsequently, arranged according to nineteenth century musical conventions (and devoid of rhythmic accompaniment), they had become internationally famous. In 1920, amateur folklorist Lydia Parrish, wife of celebrated painter Maxfield Parrish, organized the Spiritual Singers of Coastal Georgia " to restore the dignity of the spirituals. " She sponsored performances at the Islands' Cloister Resort and in private homes and awarded prizes, thus encouraging the inhabitants to cherish and maintain their living musical traditions (see Parrish's book, Slave Songs of the Georgia Sea Islands [1942; reprint, Athens, University of Georgia Press, 1992]).
Alan Lomax had first done fieldwork on St. Simons in 1935, accompanied by folklorists Zora Neal Hurston, who had worked with Mrs. Parrish. He first met Bessie Jones 1959, when he returned with modern equipment to re-record some of the singers he had encountered two decades earlier . In 1960, the Sea Islanders were among the folk musicians he recruited for a film about the music of the Colonial Williamsburg era.
After the film was shot, the folk musicians stayed on for what turned out to be a day of extraordinary music making and musical cross-fertilization... . The [normally a cappella] Sea I slanders sang with slavery-era accompaniment: the fife, the one-headed drum, and a replica of the four-string fretless banjo. Hobart Smith picked the bowl-shaped "slave" banjo with abandon, Ed Young blew thrilling litany phrases on his cane fife, and Nat Rahmings played a drum of a type once used on St. Simons and still played in the Bahamas. I cannot swear to the authenticity of this reconstructed music, but the musically conservative Sea Island Singers gave it their enthusiastic approval.—Liner notes toSouthern Journey: Georgia Sea Islands, volumes 12 (Rounder CD 1712) & and 13 (Rounder CD 1713).
Making the film was an emotional experience for Bessie Jones. Her grandfather had been enslaved in Virginia and had talked about having to eat from a trough and other, worse indignities. In Williamsburg she saw concrete corroboration of her grandparents' testimony about slavery days. She felt suddenly "called to teach." In a restaurant one day at a birthday party for a child of one of the film crew she was asked to sing a lullaby:
I had on a dress look like my grandmother used to wear — with those long wide skirts and a whole lot of underskirts. I was delighted to put it on. When I got up ... I said I was glad to do it because this is where my grandfather was brought up at, and that gave me a head to speak right there. When I said that, they stopped the beer right there and everything, and I was getting ready to sing to the child, but wasn't nobody saying nothing. Then something told me "You got to tell them everything in your mind." —Bessie Jones: For the Ancestors, Autobiographical Memories, John Stewart, editor (Urbana: University of Illinois Press, 1983), p. 51.
 Jones recognized that she could communicate to a wider world the little-known history of African Americans and slavery through the stories, songs, and dances that she had learned as a child.
The Lord blessed me not to forget these things ... and keep them up among people who weren't studying it. White people know our backgrounds, but they're going to try to hold it back and keep us back as long as they possibly can.—Ibid, p. 53. 
As a result, in 1961, Bessie Jones presented herself at the door of Alan Lomax's New York City apartment and asked him to document her music and life history (the resulting taped interviews, recorded by Lomax's then-wife, Antoinette Marchand, are available on the Lomax database). In 1963,  the Georgia Sea Island Singers were formally organized as a troupe. Lomax wrote:
Bessie spoke for the rest of the group in saying that they had a duty to teach the children. John Davis, Peter Davis, Emma Ramsey, and Bessie Jones stayed with me and my family in New York City. We worked together for months and prepared flyers to circulate among twenty friendly colleges around the country. When bookings came, we spent days planning how to introduce and present the songs, and how the group could stay together under the pressure of national tours. The group decided that there would be no star. Performance time, credit, and money were to be equally and publicly shared and no single player would book concert without permission from the entire group. The decision kept the singers together for a decade of performing all over the country, with no loss of authenticity. Their most prized experience was as staff culture-workers for the Poor People's March in Washington in 1968, during which they taught their music to thousands of African Americans and poor whites. —Liner notes to Southern Journey: Georgia Sea Islands, volumes 12 (Rounder CD 1712) & and 13 (Rounder CD 1713).
The Georgia Sea Island Singers would perform at Carnegie Hall benefits for the Highlander Folk School; at the Newport Folk Festival; at The Ash Grove in Northridge, California; at the Montréal World's Fair; in an outdoor concert at Central Park (1965); and at successive annual Smithsonian Folk Life Festivals in Washington, D. C.; among other venues. In  1964 they were featured in the Sing for Freedom Workshop in Atlanta, Georgia (organized by Guy Carawan, Dorothy Cotton, Andrew Young, and Bernice and Cordell Reagon and sponsored by the Highlander Folk School, SCLC, and SNCC) along with SNCC Freedom Singers from active civil rights movements in Albany, Selma, Birmingham, and several towns in Mississippi. They were joined by northern folksingers, Len Chandler, Phil Ochs, and Tom Paxton. SNCC Freedom Singer Bernice Johnson Reagon, who later an important historian as well as the well-known leader of Sweet Honey in the Rock, wrote that her meetings with Bessie Jones and the Sea Island Singers changed her life. Jones, who felt strongly about civil rights, was also member of a prayer band that marched with Martin Luther King, Jr., in Beulah, Mississippi.
In 1964, while visiting Los Angeles to perform at the Ash Grove, Bessie Jones and four other Sea Island Singers, John Davis, Peter Davis, Emma Ramsey, and Mabel Hillary, joined by Ed Young of Memphis, gave a two-week workshop at the State University of California at Northridge to demonstrate games, dances, and songs of the Negro South. The book Step It Down (1972) resulted from these sessions, as did the film Georgia Sea Island Singers (1964), which features performances of the sacred songs: "Moses," "Yonder Come Day," "Buzzard Lope" ("Throw Me Anywhere, Lord"), "Adam in the Garden Picking up Leaves", and "Down in the Mire" ("Bright Star Shinning in Glory"). Bessie also accompanied Ed Young on the tambourine in the film Buck Dancer, made in 1965 (both films are available in the collection The Films of Bess Lomax Hawes). In 1966 she demonstrated singing games with pupils from the Downtown Community School on Pete Seeger's television show The Rainbow Quest (which has been uploaded on Youtube).
Bessie Jones continued singing with the Georgia Sea Island Singers in the 1970s, participating in public ceremonies at schools and festivals throughout the nation, notably at the 1976 inauguration of President Jimmy Carter. In 1982, she was the recipient of a National Heritage Fellowship from the National Endowment for the Arts. She died that year of complications from leukemia. Her funeral service on St. Simons Island and interviews with members of her family can be heard on the Discussions and Interviews section of our catalog.  In addition to her recordings and the book Step It Down, she was the subject of Bessie Jones: For the Ancestors: Autobiographical Memories (1983), based on interviews made by anthropologist John Stewart in 1977–78. Bessie's solo albums: So Glad I'm Here (1973), Step It Down (1975) and Put Your Hand on Your Hip and Let Your Backbone Slip (2001) are available on Rounder.