by Ellen Harold and Peter Stone
Josh White overcame seemingly insurmountable obstacles in the course of his lifetime. He experienced almost Dickensian privation as a child musician on the open road. Yet before he was twenty this child prodigy significantly influenced the Piedmont musical scene. When the Great Depression crippled the mainstream recording industry, White's early "race" recordings nevertheless sold briskly. Then, at the peak of his powers, he injured his hand and had to completely reinvent his style of guitar picking. Despite this, he went on to become an actor, radio, and cabaret star, a ground-breaking performer of powerful protest songs, and an intimate of Franklin and Eleanor Roosevelt. Countless performers covered signature versions (including guitar arrangements) of his repertoire such as "The House of the Rising Sun," "Saint James Infirmary," and "Careless Love." On stage White pioneered a casual, intimate, yet serious persona, wearing attire that resolved the dichotomy between the tuxedo-clad night-club act and the overalls of the "country" singer. Harry Belafonte, among other acolytes, copied White's trademark casual slacks and a shirt with its top buttons opened.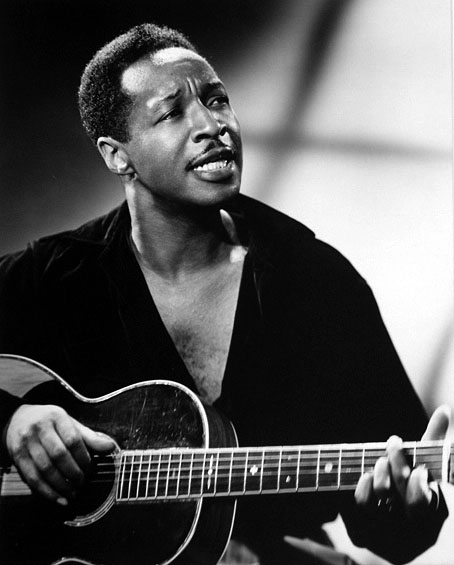 The red scare of the 1950s marginalized folk music from mainstream broadcasting and drove a wedge between him and many of his former fans, seriously hurting his career (though he continued to star in Europe). But Josh doubtless could also have overcome this in the following decade had not bad health, perhaps a legacy of childhood hardships, intervened. Sadly, he died in 1969 before he could re-establish his rapport with audiences. Still undeservedly neglected, Josh White is increasingly acknowledged as an innovative and influential major artist. His importance as a civil rights activist in song has yet to be recognized.
Joshua Daniel "Josh" White was born on Feb 11, 1914, one of five brothers and sisters, in Greenville, South Carolina. His father Dennis was a tailor by profession and a minister by avocation; his mother, Daisy Elizabeth, played the autoharp. As a child Josh was musical and sang in church. He was precocious and by the age of five could read aloud passages from the Bible. Josh recalled his parents as an exceptionally formal and proper couple who always addressed each other as Mr. and Mrs. White. But his childhood ended prematurely and tragically in 1921, when a white bill collector came into his home and rudely spat on the family's immaculate floor. Indignant at this insult to his wife, Dennis White grabbed the man by the collar and shoved him out the door. Shortly afterwards five white sheriff's deputies showed up to arrest him. As an example to other blacks, they beat him, tied him behind a horse and dragged him through the town to jail. Incapacitated by the after effects of the beatings and ill treatment he had received, he spent the rest of his life as a patient in a mental institution (he died in 1930).
The following year, Josh, who at eight years old was already a music lover, agreed to be "lead boy" and "tambourine man" to John Henry "Big Man" Arnold, whom he had befriended on the street. Arnold was one of the countless itinerant blind minstrels who busked and sang in small clubs and parties in the Southeast and Midwest. In return, Arnold agreed to send four dollars a week home to Josh's mother.
The pair traveled the South from Florida to Texas, with Josh barefoot and in dressed in ragged short pants to garner sympathy. They slept in the open and often ate only one meal a day. On those tours, during the height of the Jim Crow reign of terror of the 1920s, they witnessed tar and featherings, lynchings, and a burning. Once, in Florida, Josh was mistaken for a fugitive and beaten up and jailed.
Working for Arnold, Josh developed his crowd-pleasing showmanship to the hilt, dancing, singing, playing the tambourine, and collecting coins in a tin cup. He showed such aptitude that Arnold rented out his services to other blind singers, including Blind Blake (Arthur Phelps), Willie Johnson, Blind Lemon Jefferson, Joel "Blind Joe" Taggart, and Joe Walker. Josh also diligently set himself to learn to play the guitar from the musicians he met and by the time he was 13 his picking rivaled and sometimes surpassed that of his mentors. He later claimed Willie Walker, considered the pre-eminent Piedmont-style guitar picker of the day, as his principal musical model. But though glad of the opportunity to learn from some of the best, Josh remembered these years with bitterness. Josh found wearing rags and having to pass the cup for coins humiliating, and Arnold and the other blind musicians were mean and suspicious.
When at 14 Josh made his first recordings in Chicago (in 1928), accompanying Taggert, race music executives immediately recognized his talent and rescued him from servitude. J. Mayo Williams, noted black A & R man for Paramount and other companies, even allowed Josh to live for a time in his home and attend school. He stayed in Chicago for four years, and made numerous recordings, mostly as a sideman, including (color barriers being less ironclad in the 1920s than subsequently) "Wang Wang Harmonica Blues" (1929), which featured "Joshua White, the Singing Christian" with the Carver Boys, a white, old-time music group
In 1932 back home in South Carolina recuperating from a broken leg incurred while playing football (but perhaps also attributable to nutritional deficiencies), he was visited by New York talent scouts W.R. Calaway and Art Satherly from ARC (the American Record Company). ARC's budget line of race recordings specialized in covers of hit songs from its sister, higher-priced label, Vocalion, that were marketed in five and ten cent stores under various labels. With Mrs. White's permission, Calaway and Satherly recorded Josh's religious repertoire for ARC. They then persuaded the youth to move to New York City to record secular blues (of which his mother disapproved). The religious records were issued under the name "Joshua White, the singing Christian," while the blues appeared issued both in his own name and under the pseudonym of "Pinewood Tom." He recorded as a soloist and with other artists, such as Clarence Williams, Leroy Carr, and Buddy Moss. He also was heard on the nationally broadcast CBS radio show, Harlem Fantasy with Clarence Williams' Southernaires.
Josh's hits made significant impact in the Piedmont blues world. Blind Boy Fuller, is said to have listened repeatedly to Josh's "Low Cotton" until he memorized it. J. B. Long, Fuller's manager (and later Sonny Terry and Brownie McGhee's) credited this song with persuading him to go into the record retailing business in the first place (Bruce Bastin, Red River Blues [1995], page 169).
In 1934 Josh married Carol Carr, herself a talented singer who trained with Juanita Hall and later sang with the Hall Johnson Choir. They raised their children Blondell (Bunny), Julianne (Beverly), Josh Jr., Carolyn (Fern), Judy, and a foster daughter, Delores, along with Billy, Josh Sr.'s younger brother, and Carol's mother, in their home in the Sugar Hill section of Harlem.
Two years later Josh badly cut his right hand; infection set in and he lost feeling in his fingers. Just before the accident, he had issued two songs that indicated a rising political consciousness: "Silicosis Blues" and "No More Ball and Chain," both written by left-wing activist Bob Miller. As a singer of serious protest songs he could integrate his identity as a religious singer with his secular repertoire. For several years, however, he had to take jobs as an elevator operator, longshoreman, and building superintendent. Meanwhile he doggedly exercised his arm and fingers until he became once more a first-rate guitarist — if minus the fast runs that had characterized his early playing. On recovery, he formed a band, Josh White & His Carolinians, which performed from 1939 to 1940 and included his brother Billy and his friends Carrington Lewis, Sam Gary, and the future civil rights leader Bayard Rustin. Their repertoire chiefly comprised spirituals, arranged with help from Josh's neighbor, Juilliard-trained composer and choral arranger Leonard De Paur, who was involved in the WPA's Negro Theater productions. He arranged for Josh to be cast as Blind Lemon Jefferson, a big part in the musical John Henry, starring Paul Robeson with music by Jacques Wolfe (based on a 1939 novel by Roark Bradford, whose stories had inspired the hit play Green Pastures). Though it ran for only a week on Broadway and somewhat longer in out-of-town tryouts, the show was an important step in the modifying the depiction of African American on the stage. During rehearsals Robeson and White convinced the authors to get of stereotyped dialect speech in the script and to substitute the word "man" for "nigger" (up to then still in common use) in the dialog and stage directions.
The John Henry experience also jumpstarted the second phase of Josh White's career by bringing him to the attention of the attention of talent scout John Hammond, who signed him on Columbia records. In 1940 Josh and the Carolinians' Chain Gang, an album of social commentary so controversial at the time that Hammond recalled having to fight to get it produced. (The irascible Lawrence Gellert claimed author's copyrights to some of the material on the album. Gellert was the same who had excoriated John A. Lomax in the pages of the New Masses in 1933.) Another of hit recording of this time was a jazz version of "Careless Love," accompanied by Sidney Bechet on the clarinet.
Josh's association with Hammond led to a series of engagements at Café Society, the controversial New York nightclub that featured folk singing and integrated acts. Folksinger Cynthia Gooding told Josh's biographer Dorothy Siegel, "What Josh was doing was very dangerous. . . . At that time a black singer working to white audiences and singing songs about racial equality was doing a very dangerous thing. . . . He was about the only one doing it. And nobody has given him credit for it" (quoted in Dorothy Siegel, The Glory Road: The Story of Josh White, p. 81). Blacks were not particularly welcome in Greenwich Village and their presence often provoked brawls. Geoffrey Bridson of the BBC recalled an incident at Café Society Downtown that conveys the tension of the atmosphere, as well as a sense of Josh White's powerful personal magnetism with women. According to Siegel:
[Bridson] was dining at Café Society one evening with Alan Lomax and other friends. As usual, Josh joined them. While Josh was chatting with Bridson, Lomax stood up, turned on a man who was arguing with a waiter, and knocked the man over the next table. Some of the Café Society staff rushed up, not to reprove Lomax, as Bridson expected, but to pick up the man and toss him out. The others asked Lomax what he had been up to, but he merely answered that the man had said something annoying...About five minutes later the man reappeared with a grin on his face. Waiters closed in on him, but he loudly explained that he'd merely returned to apologize. Lomax again stood up. The man said: "I'm sorry sir. I wasn't meaning to insult you ... All I said was, I didn't want to sit at the next table to a goddam nigger" Once again Lomax floored him, but this time Josh and everyone nearby heard what he said. Josh rose to his feet eyes blazing. Immediately, three or four women at neighboring tables jumped up, rushed over, and hung onto his arms. Then the waiters picked the man up and threw him into the street. Josh sat down again, and his female "bodyguards" quietly rejoined their friends. Bridson was impressed by this proof of Josh's popularity (Siegel, pp. 81–82).
An even bigger boost to Josh's career was his presence as a performer on the nationally broadcast radio show, Back Where I Come From (1940–41), produced by Nicholas Ray (later famous as director of Rebel Without a Cause) and written by Alan Lomax. Other performers included The Golden Gates Quartet, Lead Belly, Woody Guthrie, Burl Ives, and Pete Seeger. Nicholas Ray insisted that Josh speak the lines written for Lead Belly on the show because he feared audiences wouldn't understand the latter's regional accent. The two subsequently performed together at Max Gordon's Village Vanguard, in New York City.
Josh also appeared on Alan Lomax's daytime radio program, the Columbia School of the Air, which was broadcast three times a week and heard in schools. Lomax recalled that:
For the first time ever the country heard the best material done by the best folk artists on these programs. And Josh was right in the middle of it because he was a jewel of a performer. You could give him a song and it was just served up like strawberries with whipped cream! Josh became known to the whole country on these shows (Siegel, p. 66).
Nicholas Ray was responsible for pairing Josh with the white torch singer Libby Holman, who had been scandalously linked to the 1932 murder of her much younger husband, the heir to the Reynolds tobacco fortune, and who was the model for Jean Harlow's character in Reckless. In the 40s she and Josh performed at Café Society and later toured together, transgressing racial barriers and giving rise to piquant, racially charged rumors. 
On December 20, 1940, shortly after Roosevelt's reelection to a third term, Alan Lomax, then "Assistant in Charge" of the Library of Congress's folk music division produced a concert of black folk music by the Golden Gate Quartet and Josh White at the prestigious Coolidge Auditorium of the Library of Congress, narrated by himself and Harlem Renaissance poets Alain Locke and Sterling Brown. The event, sponsored by Eleanor Roosevelt, was part of a four-day festival (Dec 18?21, 1940) in celebration of the 75th Anniversary of the Thirteenth Amendment to the Constitution. It also featured concert performances by classical singers, Dorothy Maynor and Roland Hayes; and by the Budapest Quartet, newly engaged as string quartet-in-residence, who performed works by the black composers Joseph Boulogne, Chevalier de Saint-Georges, and Samuel Coleridge-Taylor.
One month later Josh White and the Golden Gate Quartet performed at a special show at Constitution Hall for the Presidential Inaugural Ball in Washington, DC. M.c.'d by Douglas Fairbanks, Jr., it also featured Mickey Rooney, Charlie Chaplin, Nelson Eddy, Ethel Barrymore, and Irving Berlin ("An omnium gatherum of anti-fascist vaudeville," Time Magazine snidely called it). These celebrations, facilitated by Mrs. Roosevelt, took place at a time when Washington was still a segregated city; when, a year earlier, in 1939, the DAR had refused to allow the great Marian Anderson to sing in their Constitution Hall.
Though most Americans still opposed U.S. entry into the war, isolationism had by this time moderated considerably. There was broad support both for beefing up the army and for Roosevelt's policy of helping Britain by all other means. September 1940 saw the introduction of the first peacetime draft, and both Roosevelt and Willkie had run on platforms emphasizing military preparedness. Josh White's brother Billy was one of those who had been drafted, and when Josh visited him at Fort Dix he found that black draftees had to sleep in pup tents, whereas whites were given wooden barracks. Restricted to service and supply duty, blacks were debarred from training to be pilots and from combat positions in general (this policy was reversed in 1944). They were also forbidden to work in civilian factories having defense contracts, a particular source of bitter resentment in the black community and among civil rights activists in general.
The Presidential couple were folk music enthusiasts. Eleanor in particular felt that when you listened to folk music "you could hear the people speaking to you," while Franklin loved sea chanteys. On February 17, 1941, Eleanor arranged for Alan Lomax and Librarian of Congress Archibald MacLeish to present a command performance of folk music at the White House for the benefit of the military. The show, "An Evening of Songs for American Soldiers," featured a retired sailor singing sea chanteys for the President's benefit, Josh White and the Golden Gate Quartet and other members of the integrated cast of Back Where I Come From, along with local draftees performing country music. Alan Lomax recalled:
I went out into the local boot camps and after a few days found two or three marvelous country and western groups who could really sing and play up a storm. At this point there was a problem about American morale. Many people wished we weren't in the war [sic] and many people didn't understand fascism and how dangerous it was. I'd say that perhaps the biggest thing that was accomplished by the people of this century was to defeat world fascism. — Folk Music in the Roosevelt Era, Commemorative Program, 1982
Folk Music in the Roosevelt Era, Commemorative Program, 1982 In the audience were the Secretaries of War, Navy, and Treasury, the Commandants of Marine Corps and Coast Guard, and the head of procurement and their wives. For Alan Lomax, the grass roots musicians were as important as the radio performers, if not more so. He had hoped the army brass would be inspired to encourage more grass-roots folk music-making among the troops: "When the young recruits came on with all their energy — most of the audience had never heard hillbilly music — it was a revelation to them. Fiddles, banjos, guitars and good country songs. They couldn't get enough of that. They applauded and stamped . . . but we didn't get our program of folk music into the camps. The Pentagon considered the morale of the armed forces a strictly military matter." Indeed, one wonders what the Pentagon brass, many of them undoubtedly quite conservative, really thought of this evening.
It is a sign of the compartmentalization of the times that the following month, White also lent his talents that spring to the Almanac Singers' anti-draft album, Songs for John Doe (May, 1941), which contained such verses as the verses "No desire do I feel to defend Republic Steel" and "It wouldn't be much thrill to die for DuPont in Brazil"). On June 22, 1941, Hitler invaded Soviet Russia, and the Hitler-Stalin pact-inspired anti-militarism of Songs for John Doe was forgotten.
In the meantime, A. Philip Randolph and other black union leaders began organizing a massive march on Washington to protest segregation in the Armed Forces and the ban on hiring blacks in defense work. In response, Roosevelt gave the following speech:
No nation combating the increasing threat of totalitarianism can afford arbitrarily to exclude large segments of its population from its defense industries. Even more important is it for us to strengthen our unity and morale by refuting at home the very theories which we are fighting abroad. Our Government cannot countenance continued discrimination against American citizens in defense production. Industry must take the initiative in opening the doors of employment to all loyal and qualified workers regardless of race, national origin, religion, or color" (PPA, 1941, 216) —quoted in Mario Einaudi's The Roosevelt Revolution (New York: Harcourt Brace, 1959), p. 275.
On June 25, 1941, the President made this official policy by signing Executive Order 8802 establishing the Committee on Fair Employment Practices to receive and investigate complaints of discrimination. Union leaders were mollified and the threatened march was cancelled, although the armed forced remained segregated.
In September 1941, Keynote released Josh's album Southern Exposure: An Album of Jim Crow Blues, comprising six songs protesting segregation in the military, co-written by Josh White and Harlem Renaissance poet Waring Cuney, with liner notes by Richard Wright. The album was acclaimed by the black intelligentsia. Celebrities attending the release party included representatives from Fisk and Union Universities; painter Romaire Beardon; and W.C. Handy, who proclaimed the album a worthy expression of the blues spirit.
President Roosevelt obtained a copy and was especially struck by the song: "Uncle Sam Says [we've got to end Jim Crow]." He invited Josh to perform all six songs from the album at a special White House concert in front an audience of distinguished guests. After the show Roosevelt asked Josh point blank if "Uncle Same Says" referred to himself (perhaps thinking of his actions earlier that year to end discrimination in civilian federal defense contracts.) When Josh answered yes, the President invited him to talk things over for several hours over coffee and brandy in the White House living quarters. Thus began a warm personal friendship between the Roosevelts and the White family, who thereafter were frequent guests at Hyde Park at Christmas and Thanksgiving. In the lean years of Josh's blacklisting, the memory of the first family's kindness was to be a great comfort. The War Department, however, concluded that the military itself was not place the place for "social experimentation" and declined to desegregate, though when manpower became short in 1943, it did allow blacks to volunteer for combat duty.
After Pearl Harbor, Josh also appeared on broadcasts for the Office of War Information as well as performing again with Paul Robeson in Langston Hughes's 1944 radio operetta, The Man Who Went to War, which was broadcast overseas on BBC's home radio service (but not in the U.S.A.) He also performed on the 1944 Asch album Union Boys: Songs for Victory, Music for Political Action, with Tom Glazer, Burl Ives, Alan Lomax, Brownie McGhee, Pete Seeger, and Sonny Terry, singing "We Shall Not Be Moved," "Hold On," "UAW-CIO," "Sally Don't You Grieve," "A Dollar Ain't a Dollar Anymore," and "Jim Crow." (The CIO was the only union which insisted on racial non-discrimination clauses in its contracts.)
But what meant the most to Josh White and his family was undoubtedly their relationship with Franklin and First Lady Eleanor Roosevelt. On Josh's recommendation Bill White went to work at Hyde Park after the war and ultimately became the manager of Eleanor Roosevelt estate. Also after the war, Eleanor engaged Josh to perform for the Wiltshire School for Boys, a charity in which she was interested. It may be because of this he added to his repertoire comic and other songs beloved of children, such as "Cockles and Mussels" (a Victorian parody), "One Meat Ball." and "The Riddle Song" collected by Cecil Sharp (and also a favorite of Burl Ives).
"One Meat Ball," about a man so poor he could only afford to order one meat ball in a restaurant, was especially associated with Josh, and became a hit as covered by the Andrews Sisters. In the 1947 movie The Red Canary (a convoluted mystery in which Josh cameo-ed briefly as a cabaret singer), one of the characters is made to say, "We're all strictly 'one meatball' kind of guys here."
Another song associated with Josh was "The House I Live In," by Earl Robinson with lyrics by "Lewis Allan" a pseudonym of Abel Meeropol (who later adopted the orphaned Rosenberg boys after their parents were executed). This song, a statement against racial and religious bias, was made into a short film by Frank Sinatra that won an academy award and also caused him later to be briefly blacklisted. (He later sang it at Ronald Reagan's inauguration.) Meeropol also wrote the anti-lynching song "Strange Fruit," another Josh White staple, made famous by Billie Holiday. In the liner notes for this song on Josh White's 1949 LP for Decca, Alan Lomax wrote: "Mix misery with ignorance and the product is bound to be hate and blind prejudice. . . . It happened in Jerusalem and it happened in Germany. And it happens in America."
Langston Hughes wrote in his the liner notes to Josh White's album of 78s, Josh White Sings Easy (Asch, 1944):
You could call [Josh White] the minstrel of the Blues, except that he is more than a minstrel of the Blues... Josh is a fine folksinger of anybody's songs — southern Negro or southern white, plantation work songs or modern union songs, English or Irish ballads — any songs that come from the heart of the people...Josh White sings with such ease that you never feel like he is trying. This is the secret of true folk singing — for the folk song never tries to get itself sung. If it doesn't ease itself into your soul and then out of your mouth spontaneously, to stay singing around your head forever, then it isn't a folk song. And if the singer tries too hard and gets nowhere with such a song, that singer isn't a folksinger. . . . From Blind Lemon to Burl Ives, from Bessie Smith to Aunt Molly Jackson, there runs a wave of singing easy. Josh White also sings easy.
As an actor, Josh acted several more times on Broadway in the late forties. In 1947 he appeared in German artist and avant-garde filmmaker Hans Richter's Dreams that Money Can Buy, co-starring Libby Holman (with the participation of Max Ernst, Marcel Duchamp, Alexander Calder, Darius Milhaud and Ferdinand Léger). It won an award at that year's Venice Film Festival. He also appeared in John Sturges' 1949 western The Walking Hills(with Randolph Scott, Ella Raines, Edgar Buchanan, and Arthur Kennedy), in which his character, an itinerant musician, was not a stereotype but on an equal footing with the white characters. He was still young and very handsome and it hard not to speculate on what might have been had the blacklist not put an end to his budding movie career.
In 1950 while traveling in England on a goodwill tour with Eleanor Roosevelt, then United Nations Ambassador in charge of War Relief, Josh learned that he was listed in the blacklist publication Red Channels: the Report of Communist Influence in Radio and Television (along with Orson Wells, Aaron Copeland, Leonard Bernstein, Judy Holiday, Zero Mostel, Lena Horne, Langston Hughes, Edward G. Robinson, and Alan Lomax, among other luminaries.) When he arrived home F.B.I. agents detained him for six hours in a customs holding room and threatened him with deportation. The Korean War had started and they wanted Josh to publicly repudiate a statement supposedly made by Paul Robeson that the American Negro would never fight in a war against the Soviet Union. Thereafter they repeatedly harassed him at home and called him in for meetings in their offices. They assured him that if he testified "voluntarily," nothing further would happen to him. Baseball star Jackie Robinson had also been pressured to distance himself from Robeson in this way, and he did so, saying that of course he didn't agree with Robeson's statement, which he characterized as "silly" but adding the qualifier: "if Robeson actually made it." Some believe that Josh, whose appeal to women well known, was threatened with having scandalous information revealed about his sex life. Whatever the case, he was soon convinced that he had no choice but to go to Washington voluntarily and read a prepared statement explaining himself to the House Un-American Activities Committee (HUAC). In it he affirmed both his patriotism and his friendship for Robeson. Though some of his associates in the 1930s and 40s had undoubtedly been Party members, he named no one except Ben Davis, the Congressional candidate from Harlem who had run for office as an overt Communist. Josh maintained that he had lent his talents to worthy causes he that he believed in deeply because he was a Christian and he would do it again if necessary. He and Paul Robeson had never discussed Communism, though Robeson had a right to his opinions. In Josh's view, however, the statement "that the Negroes would not fight for their country against Soviet Russia or any other enemy is not only wrong but an insult, because I stand ready to fight Russia or any enemy of America." He even had the song "Strange Fruit" entered into the Congressional record.
Josh had fallen into a well-laid trap. Ignoring the liberal sentiments of his prepared statement, the press instead focused on his remarks expressing distaste for Communist tactics (a sentiment not limited to those on the right) and portrayed him as a regretful dupe. The New York Daily Mirror ran the headline, "Josh White hits Robeson for Aiding Foes of U.S." and the Amsterdam News wrote: "Singer Repudiates Robeson. " Josh's progressive fan base was led to believe that White had informed on his former friends. Nor was the blacklist lifted. He lost his contracts and his radio show, and there were no more movie offers. Eleanor Roosevelt may have liked folk music, but President Truman decidedly did not. Josh's former repertoire was anathema, and he was not invited to perform it on the new medium of television, whose rigidly conformist programming in any case featured few black faces apart from servants like Jack Benny's Rochester. Record companies also gave him the cold shoulder. He was too associated with the interracial hangout Café Society, reviled in the press as a notorious den of Communists.
His career derailed, the Whites relocated to London, where Josh was still a star. He had his own BBC radio show, My Guitar Is Old As Father Time. From there, he made many tours through England, Sweden, France, Italy, and Australia. When he returned to the U.S. in 1954, the F.B.I. interrogated him again for three hours. As late as 1963, Oscar Brand, himself blacklisted but permitted to work behind the scenes at NBC signing up entertainers, recalled that though he could hire Phil Ochs, Josh White still was strictly off limits. According to Brand, Josh was too proud," too outspoken, too "big" for network censors: and they were determined to consign him to the memory hole.
Nevertheless, his fortunes gradually improved. In 1955, Jac Holzman, of the newly established Elektra Records, in New York, issued the LP Josh White 25th Anniversary Album. Josh secured bookings at colleges and concert halls, sometimes sharing the stage with his children, Josh White, Jr. and his daughter Beverley. But touring was arduous. With ulcers diagnosed in the 40s, severe psoriasis, chronic calcium deficiency, and emphysema from a lifelong cigarette habit, his health deteriorated as did his strength. He suffered his first of three heart attacks in 1961, the year when he appeared in the Josh White Show on the UK's Granada Television network.
In 1963, President John F. Kennedy, a long-time fan, finally did what television network executives would not when he broke the TV blacklist by inviting Josh to appear on the CBS-TV civil rights special, Dinner with the President. This was followed that year by a national TV appearance at the Lincoln Memorial, where Josh performed as part of Martin Luther King's historic March on Washington, and then in the 1963–64 ABC-TV series Hootenanny.
In the mid 60s he returned to protest songs and performed with Odetta, Judy Collins, and the Clancy brothers, and made several albums. In 1965 Josh performed at President Johnson's inauguration. An invitation to appear at the Newport Folk Festival that year signaled that the rift between Josh and his former fans appeared to be mending, although tastes in folk music in many quarters were turning away from the sophisticated cabaret-style jazz-folk approach that Josh had pioneered. No doubt he could have overcome this as well had his health held up. After an automobile accident in 1966, he rallied sufficiently to appear as a guest star in 1967 on Canada's CBC-TV program, Let's Sing Out With Oscar Brand. His final appearance was in May 1969, on the Canadian TV variety show One More Time.
He died on September 5, 1969, while undergoing heart-valve replacement surgery in a Manhasset, Long Island, hospital. He was fifty-four. In 1964, new anti-segregationist laws made it possible for the Whites to purchase a new home in Rosedale, Queens. Carol continued to live there, working as manager of a clothing store, then as a social worker for the elderly in a nursing home, until her death in 1998 from a heart attack, just one week after learning that the US Postal Service would release a memorial stamp honoring Josh White.
In 1982 Alan Lomax produced a concert in Hyde Park, New York, commemorating the White House folk music concerts of the 1930s and 40s. Taped interviews of reminiscences of Josh White that he made in preparation for the occasion with Carol, Beverly and Josh White, Jr. are in the Alan Lomax Collection and are being prepared for streaming on the web.
Works Consulted:
Einaudi, Mario. The Roosevelt Revolution. New York: Harcourt Brace and Company, 1959. 
Raim, Walter. The Josh White Song Book. New York: Quadrangle Books, 1963. 
Siegel, Dorothy Schainman. The Glory Road: The Story of Josh White. Crozet, Virginia: Shoe Tree Press; (1982), 1991. 
Wald, Elijah. Josh White: Society Blues. New York: Routledge, 2000.