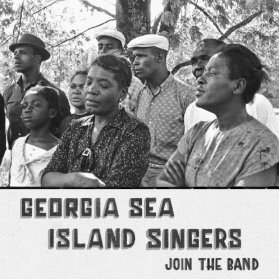 Georgia Sea Island Singers: Join the Band
( Global Jukebox Records 2012 )
Available for purchase:
The Georgia Sea Island Singers were one of the most popular groups on the 1960s and '70s folk circuit, performing at colleges, festivals, the Poor People's March on Washington, and Jimmy Carter's inauguration. Join the Band is a collection of their first stereo recordings, made by Alan Lomax in 1959 and 1960, that showcases their utterly unique hymns, spirituals, ring shouts, and work songs.
Alan Lomax first visited the Georgia Sea Island of St. Simons in June of 1935 with folklorist Mary Elizabeth Barnicle and author Zora Neale Hurston. There they met the remarkable Singers and recorded several hours of their songs and dances for the Library of Congress. Returning 25 years later, Lomax found the group enriched by the addition of Bessie Jones, a South Georgia native with a massive collection of songs going back to the slavery era. Join the Band features freshly remastered audio from 24-bit digital transfers of Alan Lomax's original tapes, and notes by the Alan Lomax Archive's Nathan Salsburg and Anna Lomax Wood, who accompanied her father on the 1960 recordings. Also available as an LP on Mississippi Records.