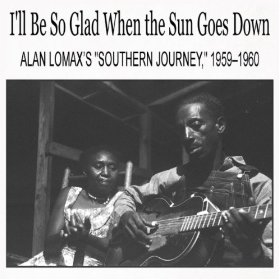 ​​​​​​​I'll Be So Glad When The Sun Goes Down
( Global Jukebox Records 2010 )
Available for purchase:
In 1959 and 1960, at the height of the Folk Revival, Alan Lomax ventured through the American South to document its still thriving vernacular musical culture. He traveled through Virginia, Kentucky, Tennessee, Alabama, Mississippi, Arkansas, Georgia, and North Carolina, making over 70 hours of recordings. The trip came to be known as Lomax's "Southern Journey," and its recordings were first issued for the Atlantic and Prestige labels in the early '60s.
The "Southern Journey" releases comprise five titles.
I'll Be So Glad When The Sun Goes Down (Catalog ID: GJ1004 / UPC: 847108076212), released on January 18, 2011, collects recordings of Blue Ridge banjo legend Wade Ward alongside eighty-one-year old fiddler Charlie Higgins; Mississippi Hill Country church singers James Shorter and Viola James; early bluegrass from Hillsville, Virginia's Mountain Ramblers; John Dudley's blues from the Parchman Farm dairy camp; shape-note singing from the United Sacred Harp Convention; St. Simons' Georgia Sea Island Singers; and one of the debut recordings of bluesman Fred McDowell.