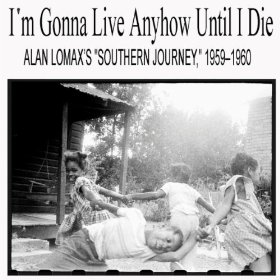 ​​​​​​​I'm Gonna Live Anyhow Until I Die 
( Global Jukebox Records 2010 )
Available for purchase:
In 1959 and 1960, at the height of the Folk Revival, Alan Lomax ventured through the American South to document its still thriving vernacular musical culture. He traveled through Virginia, Kentucky, Tennessee, Alabama, Mississippi, Arkansas, Georgia, and North Carolina, making over 70 hours of recordings. The trip came to be known as Lomax's "Southern Journey," and its recordings were first issued for the Atlantic and Prestige labels in the early '60s.
I'm Gonna Live Anyhow Until I Die (Catalog ID: GJ1005 / UPC: 847108024497), released on January 25, 2011, features Bluebird hillbilly recording artists J.E. Mainer and his Mountaineers; menhaden fishermen chanties of the Bright Light Quartet; Blue Ridge country gospel composer and bus driver E.C. Ball; Bessie Jones and the Georgia Sea Island Singers; Pentecostal Holiness congregational singing from Memphis; the Mississippi Hill Country dance music of the Pratcher brothers; and one of the debut recordings of bluesman Mississippi Fred McDowell.