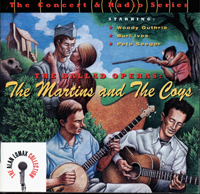 The Martins and the Coys
Concert produced by Alan Lomax and People's Songs, Inc. Recorded by the British Broadcasting Corporation in June 1944
Notes by Dave Samuelson; Introduction by Robert Cantwell
The Martins and the Coys, a ballad opera/radio play written by Elizabeth Lyttleton, is a fascinating curio in the Alan Lomax canon. The story is of feuding mountain families, modeled after the famed Hatfields and McCoys, who set aside their differences to defeat Hitler during World War II. A once-in-a-lifetime cast features acting and singing by Will Geer, Woody Guthrie (in his only documented acting role), Burl Ives, Lily May Ledford, Pete Seeger, Fiddlin' Arthur Smith, and Hally Wood.
"That rarest of period pieces, one with style and substance. Listening to the unabashed patriotism of these performers, it's incomprehensible that within a decade, many would be blacklisted as un-American." —John Morthland, editorial review, Amazon.com