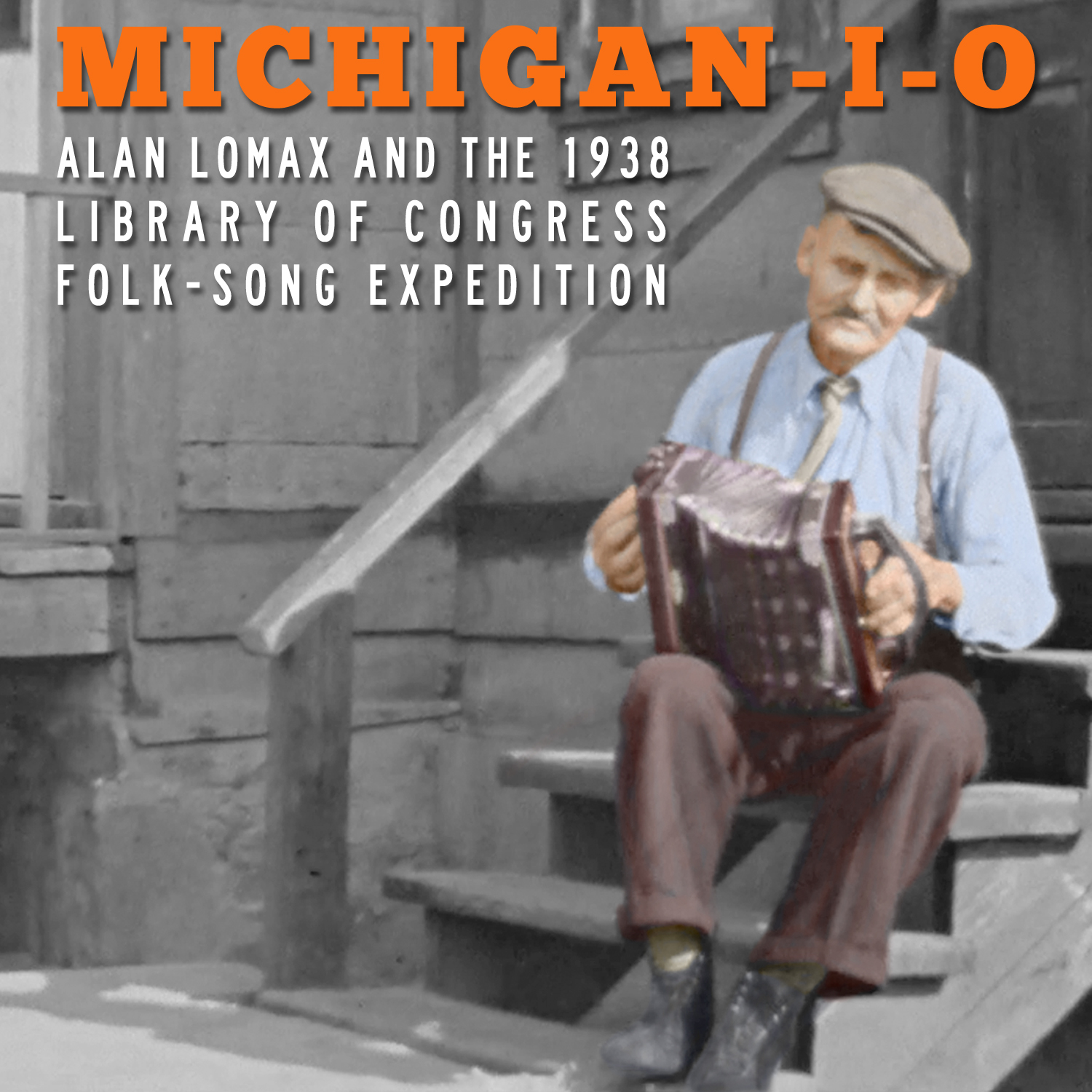 Michigan-I-O
( Global Jukebox Records 2015 )
Available for purchase:
Alan Lomax and the 1938 Library of Congress Folk-Song Expedition
Alan Lomax's work documenting the music and lore of the rural American South is well-known, but few are familiar with the folklife survey he made in the Upper Midwest in 1938. Under the auspices of the Library of Congress, he traveled in Michigan and Wisconsin for three months, recording (on 250 acetate discs and eight reels of film) a staggering wealth of material — French-Canadian and maritime ballads; bawdy lumberjack songs; Delta blues in Detroit; lyric pieces of Serbian, German, and Lithuanian origin; dance tunes played by Finnish accordionists and Native fiddlers, among much else.
Michigan-I-O: Alan Lomax and the 1938 Library of Congress Folk-Song Expedition is an introduction to Lomax's remarkable journey, and serves as an audio accompaniment to the recently released iBook of the same name. Written by Todd Harvey (curator of the Lomax Collection at the Library of Congress' American Folklife Center), and a collaboration between the Library and the Dust-to-Digital label, this innovative e-publication celebrates the 1938 field-trip with a compelling narrative illustrated with original ephemera, audio and video clips, excerpts from field notes, and telegrams. Taken as a whole, these releases provide fascinating insights into both the region that Lomax called "the most fertile source" of American folklore, and the man who would become America's most famous folklorist.
1. Patrick Bonner: Black Tar On A Stick / Up and Down the Broom (Beaver Island)
2. Unidentified group at a Polish wedding (Detroit)
3. Vladimir and Velso Floriani: Thirty-First Level Blues (Ahmeek)
4. Sampson Pittman: This Old World's In A Tangle (Detroit)
5. Edward King: New Years' Day / Ida Goyette (Baraga)
6. Selma Elona Halinen: Pikkulintu eraämaassa lauleleepi suruissana (A Little Bird In the Desert Sings Sadly) (Allouez)
7. Ed Thrasher: The Keyhole in the Door (Round Lake)
8. Illija Sainovic: Pastirska Pesma (Detroit)
9. Joe and Clarence Cloud (Odanah, Wisconsin)
10. Leilia LeClaire: Le Joli Bergere (Baraga)
11. Aapo Juhani: Finnish Waltz (Calumet)