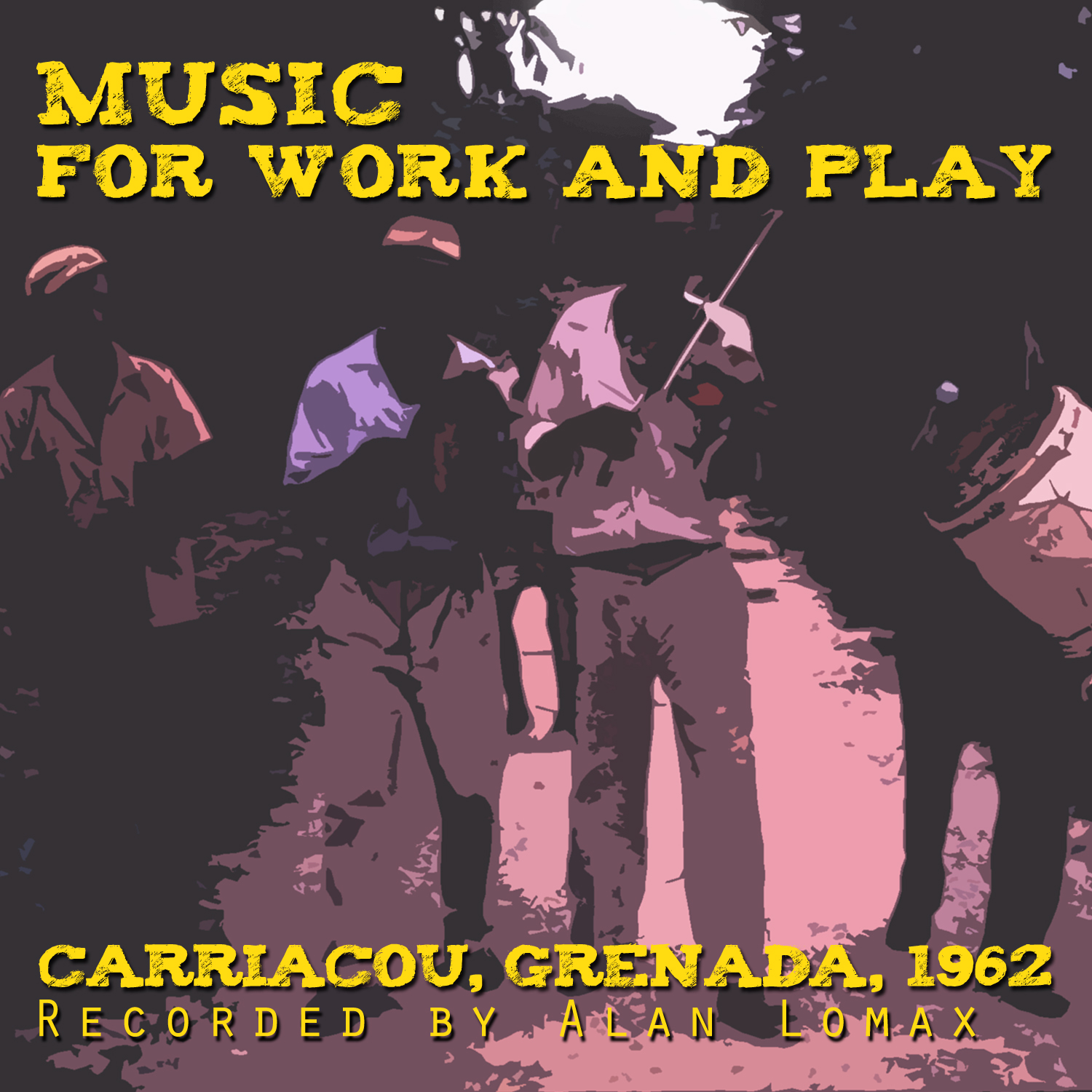 Music for Work and Play: Carriacou, Grenada, 1962
( Global Jukebox Records 2015 )
Available for purchase:
In August, 1962, folklorist/ethnomusicologist Alan Lomax and his young daughter, Anna, arrived in Carriacou, a small, outer island of the Eastern Caribbean nation, Grenada. Using state-of-the-art equipment, Lomax spent the next five days recording a wide range of traditional music and song. On three-foot high loudspeakers, Lomax played the music back to those recorded and then conducted both formal and informal interviews about the music and culture - encounters that were also captured on tape and that were as light-hearted as they were informative.
Among the many hours of recordings that Lomax gathered were the songs and music performed by Carriacouans to pass the time at work. He recorded group and solo sea chanties sung by Carriacou seamen to coordinate physical work, alleviate boredom, and express the homesickness that was often felt by sailors. Lomax also captured on tape the songs and music that Carriacouans performed to entertain themselves and each other, including "pass play" songs - a social music and dance performed by unmarried young men and women. He made recordings of waltzes, polkas, calypsos, and other tunes played by Carriacou string bands, and he captured the stunning polyrhythmic music played for Carriacou quadrille dancing by solo violinists and accompanied by often virtuoso percussionists. Re-mastered from Lomax's original stereo recordings, Music for Work and Play: Carriacou, Grenada, 1962, offers a snapshot of Lomax's warm welcome to Carriacou as well as a portrait of this rich, diverse, and vital musical culture.
Music for Work and Play was compiled and annotated by Dr. Rebecca Miller, who also filmed these later instances of quadrille music in Carriacou. They feature Canute Caliste and Sonnel Allert, both of whom were recorded by Lomax in 1962 and appear on the album. Rebecca Miller received a PhD from Brown University in ethnomusicology and is currently Associate Professor of Music at Hampshire College in Amherst, MA. She conducted dissertation research as a Fulbright Fellow in Carriacou (Grenada). Her book, Carriacou String Band Serenade: Performing Identity in the Eastern Caribbean (Wesleyan University Press, 2008) examines social upheaval, political change, and post-colonial identity formation through the performance of traditional music and dance in Carriacou. A public sector folklorist, Miller has documented and presented the traditional arts from a number of immigrant and refugee communities throughout the United States. Her work has culminated in publications, recordings, festivals, and award-winning radio and video documentaries. A fiddler, Miller performs a variety of traditional musics for dances and in concert.
1. Meet Me on the Road (Pass Play)
2. Wila-Wila Mena (Scotch/Reel Engage)
3. Quadrille (Figure 1)
4. Quadrille (Figure 2)
5. Quadrille (Figure 3)
6. Quadrille (Figure 4)
7. Quadrille (Figure 5)
8. Quadrille (Figure 6 - Breakaway)
9. Shame, Shame, Shame, Unc' Riley (Launching Song)
10. Chanteys and Interview About Seafaring
11. Rosibella
12. Suku Suku
13. Ba Moin Un 'Ti Bo (Give Me a Little Piece)
14. English Quadrille 1
15. English Quadrille 2
16. When I Go Tell Me Mama
17. Interview
18. Bullen Sent My Vera Back (Calypso)
19. Bo-Moin Homme, Chere Dou-Dou (Pass Play)
20. Waterloo, My Boy, Turn Me Round (Pass Play)
21. Ele Missi-O (Pass Play)
22. A-Nana-O
23. Adolphus ('dolphus) Coker
24. Score for Di Black Girl
25. Dite Ahe-O
26. Khaki-O! Where You Diamond
27. Scotch/Reel Engage
28. Charlotte-O (Scotch)
29. Lyrics to Charlotte-O
30. Breakaway 1 (Quadrille Instrumentation)
31. Breakaway 2 (Quadrille Instrumentation)
32. It Time for a Man to Go (Chantey)
33. Calypso