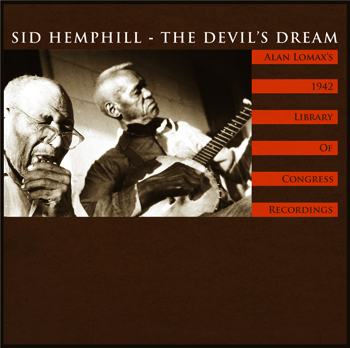 Sid Hemphill - The Devil's Dream
( Global Jukebox Records 2014 )
Available for purchase:
Alan Lomax's 1942 Library of Congress Recordings
Multi-instrumentalist, band-leader and composer Sid Hemphill (1876–1961) was for decades the musical patriarch of the Mississippi Hill Country. He and his band – comprised of Alec "Turpentine" Askew, Will Head, and Lucius Smith; like Sid, all from Panola County, Miss. – were fixtures at dances, picnics, and frolics throughout the right triangle formed by Memphis, the Delta, and the Hill Country. Alan Lomax recorded Blind Sid in August 1942, near Sledge, Mississippi, where his band was appearing at a country picnic and banging out their breakdowns, marches, and square-dance tunes, as well as several blues ballads composed by Hemphill himself. By that date hundreds of commercial records had been made of the music of the Delta, and the preponderance of those were of or relating to the blues form, with guitar or piano accompaniment. Lomax's were the first made of the Hill Country's local music, and contributed to a broader perspective of black vernacular instrumentation, with their inclusion of the fiddle and banjo of the string band, the fife and drum ensemble, and the cane panpipes or "quills."
"The Devil's Dream" is the first release devoted to Lomax's 1942 recordings of Sid Hemphill. Transferred from the fragile original acetate discs and expertly mastered and speed-corrected, the album is a portrait of a once-thriving black regional musical tradition, all but forgotten in its Mississippi Hill Country home.
Also available as an LP on Mississippi Records.