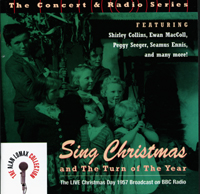 Sing Christmas and the Turn of the Year The Live Christmas Day 1957 Broadcast on BBC Radio
Written by Alan Lomax, produced by Charles Parker, and recorded by the BBC Home Service. Notes by Ken Hunt
This dazzling radio Christmas pageant aired on Christmas Day, 1957, using live hookups and local MCs from studios in Belfast, Birmingham, London, Wales, Plymouth, Derbyshire, and Scotland to capture and broadcast traditional carols, hymns, mummers' play excerpts, the brand new skiffle style, and calypso and  African highlife from Britain's immigrant communities. With Shirley Collins, Ewan MacColl, Peggy Seeger, Seamus Ennis, A.L. Lloyd, Flora MacNeil, Cyril Tawney and many, many more.
"Fans of uber-folklorist Alan Lomax will be floored by this holiday-oriented tour de force… The tightly scripted program features narration by Lomax, who waxes eloquent about the social and mystical roots of Britain's Christmas traditions. Lomax was ahead of the curve in so many ways on this project, it's hard to know where to begin — stylistically, technically, cross culturally — this was an ambitious, professionally realized broadcast that gathered together the best of Britain's folk talent, and yet retained the charm of a grade school talent show. … Fascinating as a work of art and an historical document, this album is one of the jewels of Rounder's extensive program reissuing Lomax's vast recorded legacy. … A dazzling show!" —Slipcue