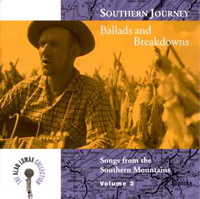 Southern Journey, Vol. 2 - Ballads and Breakdowns
( Rounder Records )
Part of the Southern Journey Series
Available for purchase:
Additional notes by Andrew L. Kaye
Recordings of old-time Blue Ridge Mountain music — fiddle tunes, banjo breakdowns, ballads, and lullabies. On this disc we find songs inherited from Britain belonging to the famous Child ballad canon along with newer blues lyrics, songs recounting local history, lyrics of lost love, remorse, revenge, and comedy; and instrumentals for parlor and porch. "Old Joe Clark," "Single Girl," "Pretty Polly," "Single Girl," "The Willow Garden," and "Bonaparte's Retreat" are among the many selections.