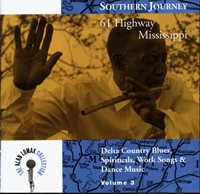 Southern Journey, Vol. 3 - 61 Highway Mississippi
Notes by Matthew Barton, adapted from the writings of Alan Lomax
Work songs, spirituals, lullabies, fife and drum and old-time Black string bands from the Mississippi Hill Country; and, of course, Delta blues, including the historic first recordings of country blues artist 'Mississippi' Fred McDowell. Includes "I'm Going Home" recorded by Ervin Webb with prisoners at the notorious Parchman Farm; an interview with Webb; and "Clarksdale Mill Blues" by John Dudley.