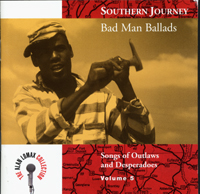 Southern Journey, Vol. 5 - Bad Man Ballads: Songs of Outlaws and Desperadoes
Additional notes by Andrew L. Kaye
Defiant, larger than life rebels Railroad Bill, Brennan on the Moor, Jessie James, and the tragic hero John Henry are among those celebrated in folk songs performed by Virginia coast quartets, Mississippi mountain balladeers (such as Spencer Moore and Neal Morris), and Mississippi prisoners. Includes the original version of "Po' Lazarus" by James Carter and fellow prisoners featured in the film and soundtrack O Brother Where Art Thou?
"My favorite disc of the first 6 is Volume 5." —The Tracking Angle