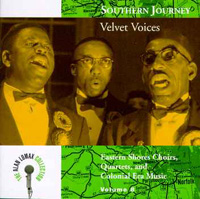 Southern Journey, Vol. 8 - Velvet Voices: Eastern Shores Choirs, Quartets, and Colonial Era Music
Additional notes by Matthew Barton
African-American music from the Eastern Shores. The Bright Light Quartet, Bessie Jones and the Sea Island Singers, and others perform menhaden fishermen's chanteys, jubilee and gospel singing; and Ed Young's and Hobart Smith's reconstruction of a pre-revolutionary-style fife and four-string-banjo duet made during the filming of a documentary about Colonial Williamsburg.
"Travelers through plantation country of the Eastern Shore often described the thrilling rowing chants of the Negro slaves. Here, too, Colonel Higginson listened with rapture to the spirituals of his Negro regiment in the Civil War and wrote the first account of this already mature religious music. This primordial spiritual tradition still exists in the most isolated of the Sea Islands in Georgia, and I have heard replicas of these songs sung as far west as Louisiana and Texas by ex-slaves. There can be little doubt that the East Coast tradition moved west with the expanding frontier and formed the basis for new folk song everywhere in the South."  —Alan Lomax, 1961
"Another fine example of Alan Lomax's profound desire to preserve Southern roots music." —Folk & Acoustic Music Exchange