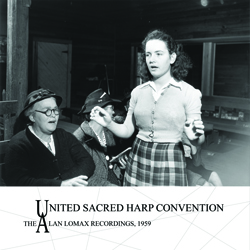 United Sacred Harp Convention: The Alan Lomax Recordings, 1959
( Global Jukebox Records 2014 )
Available for purchase:
Alan Lomax's recordings of the 56th annual convention of the United Sacred Harp Musical Association in Fyffe, Alabama, were the first made of four-part shape-note singing – America's most powerful tradition of folk hymnody – in stereo. Lomax had, as he later wrote, "tried and failed, as had many others, to record this music monaurally" at the Sacred Harp Singing Society of Birmingham, Alabama, in 1942. In '59 he hoped to "finally do justice to its haunting beauty." Over the course of the two-day convention, nearly two hundred songs, memorial lessons, and prayers passed over the heads of his two-track Ampex recorder, with Alan's notations filling the margins of his notebook: "stately," "militant," "lively," "marvelous," "fascinating performance," "wonderful sound."
United Sacred Harp Convention: The Alan Lomax Recordings, 1959 conveys the deep emotion and intensity of Southern shape-note singing across 18 performances, nine of which have been previously unreleased, and is comprised of new re-masters from Lomax's original stereo tapes. The recording of "The Last Words of Copernicus" that begins the album was used as a sample in Bruce Springsteen's "Death to My Hometown," on his 2012 "Wrecking Ball."