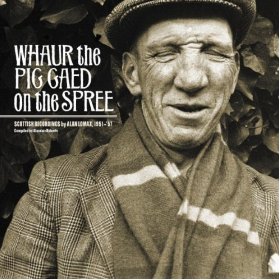 Whaur the Pig Gaed on the Spree
( Global Jukebox Records 2013 )
Available for purchase:
Alan Lomax in Scotland, 1951-1957
In the summer of 1951, Alan Lomax made his first trip to Scotland on the recommendations of folksinger Ewan MacColl and poet, song collector and Scots nationalist Hamish Henderson. Traveling through the Scottish Lowlands, Lomax and Henderson recorded pipe tunes, children's games, Robert Burns compositions and dozens of ballads from farm laborers, fishwives, and the Scottish Traveling folk. Lomax wasn't just impressed by the variety of the country's traditional music, he was astounded by the depth of the Scots' knowledge and appreciation of it.
Whaur the Pig Gaed on the Spree commemorates the 60th anniversary of Lomax's first Lowland Scottish recordings and acknowledges their profound effect on Scotland's folk revival with one of its most gifted heirs at the wheel: Drag City recording artist Alasdair Roberts. Curated by Roberts and produced in collaboration with the Alan Lomax Archive's Global Jukebox label, the record is a startlingly diverse portrait of Lowland traditional music and song: from gentle to rumbustious, hilarious to heartbreaking.