In partnership with:
Alma Jordan Library at Trinidad's University of the West Indies (UWI), St. Augustine, Trinidad, WI
Selections from the Alan Lomax Archive
Associated Field Trips
Image Gallery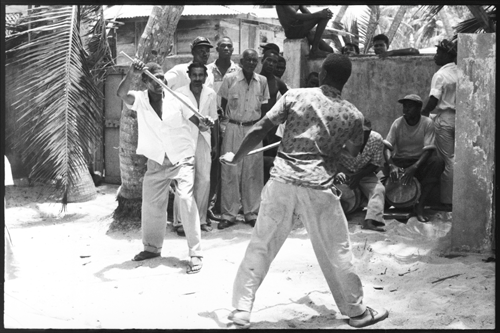 Reprinted from the Guardian
UWI receives Alan Lomax and JD Elder Collection
DAVID CUFFY
Published: Wednesday, June 20, 2012
A symbolic handing over of The Alan Lomax and Jacob D Elder Collection of Folk Recordings to the Alma Jordan Library of the University of the West Indies (UWI) took place at Theatre 1, National Academy for the Performing Arts (NAPA), Port-of-Spain, on Monday evening.
The event, A Cultural Journey—An Evening of History, Music and Dance, was in honour of participants from the Caribbean and Latin America attending the three-day 57th annual Seminar on the Acquisition of Latin American Library Materials  (SALALM) hosted by the UWI campus libraries, National Library and Information System Authority (NALIS) and the Library Association of Trinidad and Tobago (LATT), which began at Hilton Trinidad and Conference on June 17.
SALALM's primary missions are the control and dissemination of bibliographic information about all types of Latin American publications, and the development of library collections of Latin America in support of educational research. This year is the 50th anniversary of the field recordings made in 1962 by Alan Lomax, with assistance from JD Elder and according to Dr Rosita Sands of the Lomax Archive, it is a sweeping survey of the music of 12 islands, inclusive of Grenada, Anguilla, St Lucia, St Kitts/Nevis, Carriacou, Dominica, Martinique, St Barthelemey, Guadeloupe and Trinidad and Tobago.
Lomax, of Austin, Texas, who died in 2002 at age 87, was one of the great American collectors of folk music. He was a folklorist, musicologist, writer and producer who spent seven decades promoting knowledge and appreciation of the world's folk music. A complete copy of his 1962 recordings resides in a digital archive at UWI's St Augustine campus.
Jacob D Elder (JD) was a Tobago-born scholar who earned a master's in sociology, and a PhD in anthropology, and conducted extensive field research in Africa, the United States, and Caribbean region, with special emphasis on African religion, art, music, dance and architecture. He died in 2003 when he was 89 years old.
In 1962, the two collaborated to capture recordings on traditional life and folk music in the Windward and Leeward Islands, but especially in Trinidad and Tobago. Lomax had described Elder as a "long-time comrade and colleague" who introduced him to "the incredible culture of Trinidad in two magic weeks."
They also combined efforts to produce another publication, a memoir titled Brown Girl In The Ring: An Anthology of Song Games from the Eastern Caribbean. Kathleen Helenese-Paul, head of the West Indian and Special Collections Division at UWI, said newspaper advertisements were used to discover if any of the groups recorded in 1962 were still active.
Confirmation was received from four—the Mount Pleasant Baptist Church Singers (Tobago), The Cantique Singers (Maraval), Rose of Sharon Singers (Blanchisseuse), and San Jose Serenaders, all of whom delivered performances to the delight of attendees, in addition to the Malick Folk Performers. Prior to the programme guests were entertained at a cocktail reception by Mungal Patasar and Pantar.