Grade Level
Grades 3-5; 6-8; 9-12
Selections:
Recorded (in order): Posen, Michigan September 1938 (2311A 1); Beaver Island, Michigan, August 8, 1938; Calumet, Michigan, September 17, 1938; Newberry, Michigan, September 14, 1938)
Performers: Felix Kania (clarinet); Patrick Bonner (fiddle); Henry Mahoski (concertina); Yalmer Forster (Harmonica); Charles Ketvirtis, (concertina)
Note to Teachers: The following lesson is based on dance music from different ethnic communities in Michigan. The performers are Polish American, Lithuanian American, Finnish American, and Irish American. The tunes come from Polish, Irish, and Finnish traditions. The two concertina players, Charles Ketvirtis and Henry Mahoski, played for audiences of mixed ethnicity, including the Finns of the Upper Peninsula &mdash home to the nation's largest Finnish American community. Alan Lomax was amazed by the diversity of ethnic music he found in Michigan. This dance music would have been played at community dances and at rites of passage such as weddings and anniversaries. In one case, the music was specifically for a wedding: "Wedding March" of Activity 1.
Activity 1: Finding the Beat and Form in pieces written in 2/4 and 4/4
Students listen to the "Wedding March," performed on solo clarinet by Felix Kania. 
Students learn some background information about the piece and the performer. Teacher shares the following information:

This tune was used in the Polish community of Posen, Michigan, to accompany the march of the bride and groom to the church for the wedding. (In an actual wedding of the time, the clarinet would have been accompanied by fiddle(s) and drum.)
The performer, Felix Kania, emigrated to the U.S. from Poland in 1900 when he was 18 years old. He began to play the clarinet after he came to the U.S., first learning to read notes and later picking up tunes by ear. In addition to playing for local weddings and community dances, he also played clarinet in the community band located in nearby Rogers City, Michigan.

Students use rhythm sticks or hand clapping to mark the 4/4 beat. After the beat is established, students march through the room, each finding a unique trajectory, continuing to mark the beat with their hands or rhythm sticks. Alternately, students may step in place while clapping or playing. For an added layer of complexity, students count (1-2-3-4), clap or play, and march the beat, all at the same time. 
Students analyze the form of the piece (AABB AAB), identifying its two contrasting sections. [More advanced students may note that each section is also in two parts, with parts distinguished by a slightly different ending.] 
Students identify the contrasting sections by doing a different activity for each (stand up, sit down, freeze, etc.), while continuing to tap the beat. Alternatively, hand out A and B cards; students raise the correct card when their section begins.
Students identify form and beat in two more tunes. All are dance tunes that might have been used at a dance following a wedding. **Note, "Up and Down the Broom" has a more easily identifiable form than does "Kauhaven Polka."
"Up and Down the Broom," reel played by fiddler Patrick Bonner of Beaver Island, Michigan

Students listen and clap or march to the time signature. [4/4]
Students identify the form, [AABB AABB AABB AAAA] either by listening or by reading/playing the transcription below. Students do a different activity, or hold up A and B cards, to indicate their understanding of form. Note**Bonner varies the traditional fiddle tune structure of AABB here.
Teacher provides students with background about the piece and performer: 

Patrick Bonner (1882-1973), was born on Beaver Island to Irish immigrant parents and probably learned this tune by listening to the first generations of Irish-born fiddlers on the island. Farmer, logger, and sailor, Bonner also entertained at island dances, house parties, and celebrations such as weddings, anniversaries, and wakes. Reels are a popular form of Irish dance. On Beaver Island, as elsewhere, they were likely performed in set figures or as solo step dances.

"Kauhaven Polka," performed by Henry Mahoski, concertina, Amasa, Michigan

Students listen and mark the 2/4 time signature by clapping, marching, or some other means.
Students identify the form [A A1 A2 A3 BB CC A2A3 A2A3 BB].
For a simpler activity, teacher or students play the B section from the transcription below. Students then listen to the recording and identify B section with body movement, cue cards, etc.
Advanced students may be able to identify the three different A sections. Teacher explains how the performer varies the basic melody while keeping a strong beat for the dancers.
Teacher provides students with background about the piece and performer: Henry Mahoski, son of Polish immigrants, lived in Amasa, a predominantly Finnish area of the Upper Peninsula. He taught himself to play the concertina and began to perform at local dances. The polka played here is a well-known Finnish dance tune that is still popular among Michigan's Finnish Americans.

**Transcription from Glenn Hendrix, An Island of Fiddlers, Fiddle Tunes of Patrick Bonner, Beaver Island, Michigan (Self Published, Grand Rapids, MI, 2008).

 

Kauhaven Polka B Section, transcribed by Glenn Hendrix 

Students may use violin or other melody instruments to play the transcribed tunes.
Activity 2: Finding the beat and form with triple meter tunes
**Note that these triple meter tunes are faster tempi and have the feel of "1" rather than "3." 
"Kulkurin Valssi/Vagabond Waltz" performed by Yalmer Forster, harmonica, Calumet, Michigan

Students listen and identify the 3/4 beat by claps, sways, or simple waltz dance steps.
Once the beat is established, student groups alternate marking the downbeat pulse and subdividing in 3. More advanced students may be able to do both simultaneously.
Students identify the form [ABA] by doing a different activity, or holding up A and B cards, as appropriate.
Teacher provides students with background about the piece and performer: Yalmer Forster, the son of Finnish immigrant parents, uses the Finnish lumberjack style of harmonica, with melody and rhythmic chording played simultaneously, making it sound more like a concertina or accordion. This is perhaps the best known Finnish American waltz. Written by J. Alfred Tanner (1824-1927)—a popular Finnish entertainer who traveled throughout the Upper Midwest in the 1920s—it remains popular today.

"Mazurka" performed by Henry Mahoski, concertina, Newberry, Michigan
**Teacher note—discussion of form omitted as it is difficult to determine by listening

Students listen and identify the 3/4 beat by claps, sways, or some other means.
After basic triple meter is established, students clap, stomp, or otherwise mark beat 2. [Emphasis on beat 2 is characteristic of a mazurka.]
Teacher provides students with background about the performer and piece: The mazurka is a traditional Polish circle dance. Charles Ketvirtis, concertina, was a Lithuanian-born musician known for leading singing at his family reunions, and performing at local social occasions, including weddings.
Activity 3: Concertinas/Button Accordions
| | | | | | |
| --- | --- | --- | --- | --- | --- |
| AFS 02337 A01 | Mother song | Played by Charles Ketvirtis on concertina. | 1938-09-14 | Newberry, MI | Lithuanian |
| | | | | |
| --- | --- | --- | --- | --- |
| AFS 02361 B | Circus Gallop, Polish Polka | Played by Henry Mahoski on concertina | 1938-09-22 | Amasa, MI MI |
| | | | | | |
| --- | --- | --- | --- | --- | --- |
| AFS 02382 A01 | Finnish schottische | Played by Aapo Juhani on concertina. | 1938-09-27 | Calumet, MI | Finnish |
Students are introduced to the concertina, if unfamiliar. Lomax recorded concertinas played by Polish (Henry Mahoski), Lithuanian (Charles Ketvirtis), and Finnish (Aapo Juhani) musicians. (German and Irish dance music also uses concertina, but Lomax did not record concertina players among these groups.) 
Students review the cultural communities associated with two concertina pieces included in this lesson: "Mazurka" (Polish) and "Kauhaven Polka" (Finnish). These pieces are played by Lithuanian American and Polish American musicians respectively. Good dance musicians must know their audience and its favorite tunes.
Students explore more Polish, Lithuanian, and Finnish concertina pieces online at the Library of Congress website https://www.loc.gov/collections/alan-lomax-in-michigan, Alan Lomax Field Recordings from Michigan and Wisconsin. Search by performer name, tune name, or community where tunes were recorded. Three examples are listed below. 
Students conduct an online or community search for concertina music/musicians.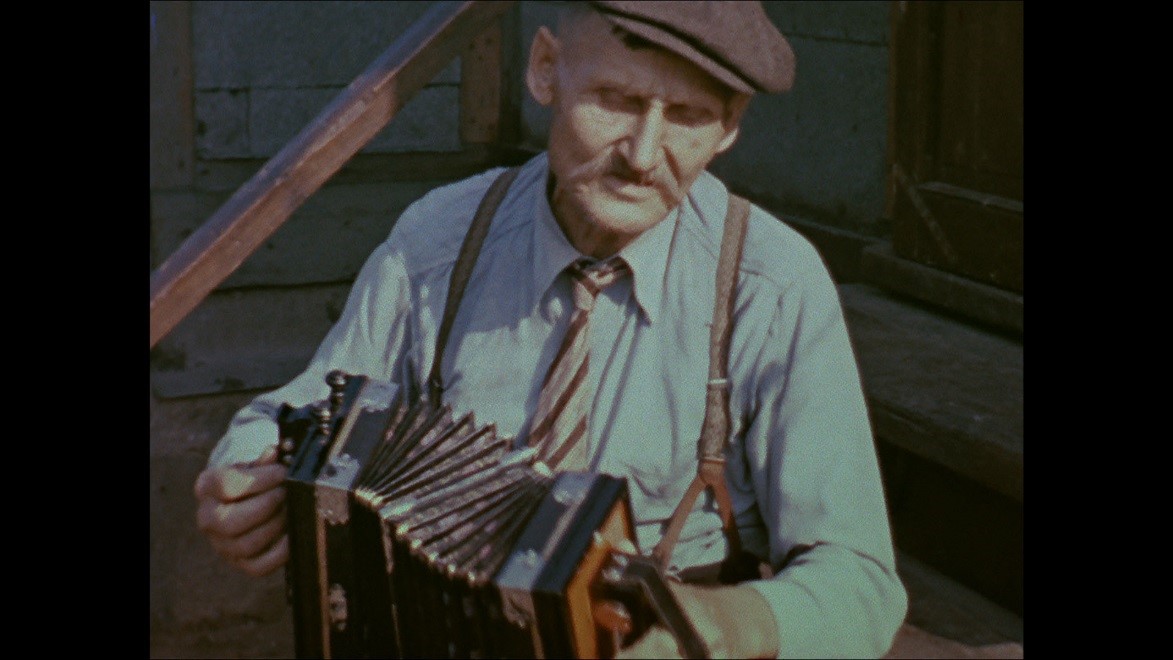 Aapo Juhani playing concertina in a still from Alan Lomax's color film footage, Calumet, Michigan, 1938.
Activity 4: Understanding Context: A Photographic Scavenger Hunt
Teacher shares with students the following background to Polish wedding traditions and Lomax's trip to Posen, Michigan, so that students will better understand the original context, or setting, of this music.
 

Felix Kania would have performed "Wedding March" at a rural Polish wedding in the northeast Michigan Polish community of Posen. This tune accompanied the march of the bride and groom to the church. [He would have played another tune to accompany the couple back from the church.] At the wedding dance that followed, Kania would have played polkas, waltzes, mazurkas, and obereks—all styles of dance that were popular in Polish American communities—as well as square dances popular with their Anglo American neighbors.
Alan Lomax went to Posen because of previous writings about its Polish customs, especially Konrad Bercovici's 1925 book, On New Shores. Lomax had met with the staff of the Federal Writers Project in Michigan, a WPA project that was producing state guides and driving tours across the country. Michigan, A Guide to the Wolverine State (1941) draws from Bercovici and includes the following information about Polish weddings in Posen: "Dinner for the wedding is provided by the father of the bride; the father of the groom supplies the wine and the musicians. Each male guest contributes to the bride's dowry in the ceremony of 'breaking the plate': a china plate is placed on a table in the room where the general dancing is in progress; money is thrown on the plate by the guests, and the bride dances with each donor for a specified time; when silver is thrown hard enough to break the plate, the bride dances twice with the thrower. Marriage festivals often continue three days and three nights." (pp. 484 and 485).
Fifty years after Lomax first recorded Kania, Felix's son, Ed, shared this photo with folklorist Jim Leary, who was following in the footsteps of Alan Lomax by recording folk music in Posen.

 

Students explore the topic: "What can this photograph tell us about a Polish wedding in 1920?"
Q—Can you find Felix Kania? (third from right, front row, with clarinet)
Q—Are there any other musicians? What instruments are they playing? (two fiddles. A typical band for a wedding included clarinet, two fiddles, and a drum.)
Q—Is this a country wedding or a city wedding? What clues help you decide? (Outside with barn/outbuilding in background)
Q—How are the people in the photo dressed? Are these every day or special clothes? (Sunday best, dresses, suits, ties, hats) 
Q—Can you find the bride and groom? (bride is in white, wearing the elaborate white flower crown, with the groom to her left. Members of the wedding party are wearing boutonnieres (men) and white/light-colored dresses (women)) 
Q—What season of the year is it? (Likely summer, when weddings typically took place. No one is wearing a coat, and there are leaves on the trees.) 
Q—What ages of people do you see? Who did you think came to the wedding? (neighbors, family, young and old in the community) 
Q—Where do you think the wedding dance took place? (Perhaps inside the outbuilding behind, assuming it was empty. Barns, outbuildings, and even outdoor platforms were used for dancing in rural Polish weddings of the time.) 
Q—What things about this wedding are the same or different than a wedding today?
Activity 5: Collecting Wedding Music
Students collect information about music played at marriage celebrations from sources such as parent/caregiver; neighbor; friend; relative; teacher; musician at a local place of worship.
Students brainstorm in groups about what kind of information to collect. Possibilities include:

name of musical piece
instrument(s)/vocals used
where it is performed
when it is performed (before/during/after the marriage ceremony, as part of a celebration or dance after the ceremony.)
sample music recording
name of performers

Students may use the Interview Card provided below to collect basic information and bring it back to class.
Students share their collected wedding traditions as a group. Make a bulletin board or exhibit of the class collecting project.
Extensions: Invite a local wedding musician to class. Learn to dance a reel, polka, waltz, or mazurka from a visiting community member, or from examples found on the internet. See if the class can perform or find recordings of the collected music.

Credits: Background information for "Up and Down the Broom" and Patrick Bonner from Laurie Kay Sommers, Beaver Island House Party (Beaver Island Historical Society, Michigan State University Museum, and Michigan State University Press, 1996). All other background information adapted from James P. Leary, Folksongs of Another America, Field Recordings from the Upper Midwest, 1937-1946 (University of Wisconsin Press and Dust to Digital, 2015). Special thanks to Glenn Hendrix for use of his transcriptions.

 
Lesson plan by Laurie Kay Sommers 
with generous support from the NEA