Selections:
31st Level Blues (Video)
Recorded: September 25, 1938, Ahmeek, Michigan
Performers: Veko and Vladimir Floriani Jr.
Composer: Vladimir Floriani, Jr.
Activity 1: Miner's Blues and Videos of Place
1. Teacher provides brief background to copper mining as an occupation in Michigan's Upper Peninsula. 
In 1844, Michigan copper spurred the nation's first mining rush, preceding by several years the more famous California gold rush of 1849.
Copper mining jobs attracted immigrant workers from many European countries to the Keweenaw Peninsula.
By the 1860s, Michigan produced 91% of the nation's copper. Production peaked in the 1910s. The deepest mines were over 9000 feet below the surface (shafts were on an incline, so this measurement represents the length of the shaft incline). Ahmeek Mine (the subject of this song) had levels as deep as 3000 feet.
In 1931, during the Great Depression, many mines closed, but reopened by the late 1930s when copper prices rose again. 
Since WWII, various companies have tried new techniques for mining Michigan copper, but the industry is a shadow of its former self, and most mines have been closed since the 1960s-70s. 
2. Teacher provides background about the composer, Vladimir Floriani Jr. (born 1906), a miner and grandson of Croatian immigrants.
Floriani worked for Calumet and Hecla Mining Company at Ahmeek, in the Keweenaw Peninsula of Michigan's Upper Peninsula.
In 1931, after hearing that the mine was to be closed, Floriani wrote this song for a performance on a local radio show; it became very popular.
Floriani wrote "Thirty-First Level Blues" in the style of Big Band jazz and swing, popular styles in the 1930s.
Michigan's mines did not produce many songs. This is one of only two mining-related songs Lomax collected in Michigan. (Other regions did produce mining songs, however, such as the coal fields of Pennsylvania and Kentucky. See George Korson's works on the coal mining songs of Pennsylvania.)
3. Students view/listen to "Thirty-First Level Blues" and then listen again, singing along. **Video clip excerpted from "Alan Lomax Goes North," a documentary film edited by James P. Leary and Guha Shankar, which combines Lomax's original 1938 silent color film footage with his 1938 Michigan sound recordings. The audio of "Thirty-First Level Blues" is paired with Lomax's footage of the mining landscape of the Keweenaw Peninsula. The song fades at the end of the video clip. The entire song is included in the audio clip.
"Thirty-First Level Blues"

I've got the thirty-first level blues,
From my head down to my shoes.
In the morning I mope around,
In the evening my sorrows I drown.
When the boss comes down and says,
"Get up, don't stall around."
Shows I'm paid to try and keep his rep
Work makes my back ache,
And someday his head I'll break,
"Cause I've got those blues, those thirty-first level blues.
Activity 2: Photo Discovery of Michigan Copper Miners
1. Students examine the photo of miners working for Hecla Mining Company in Calumet, which gives a sense of miners coming up from deep mines (such as the "thirty-first level" of the song).
Q—What kind of work clothing did the miners wear? Did it protect them from dangers?
Q—What might have been in their lunch pails? (**This is an opportunity to explore the Cornish pasty, a regional food of the Upper Peninsula first introduced by Cornish miners and still extremely popular today.)
2. Students examine the history of copper mining in the Keweenaw Peninsula of Michigan. A good starting points are a) the online pamphlet, Industrial Calumet, A Guide to the Calumet & Hecla Mining Company industrial site, from the Keweenaw National Heritage Area (National Park Service)  b) The No. 2 Quincy Shaft-Rockhouse from Teaching with Historic Places Lesson Plan (National Park Service)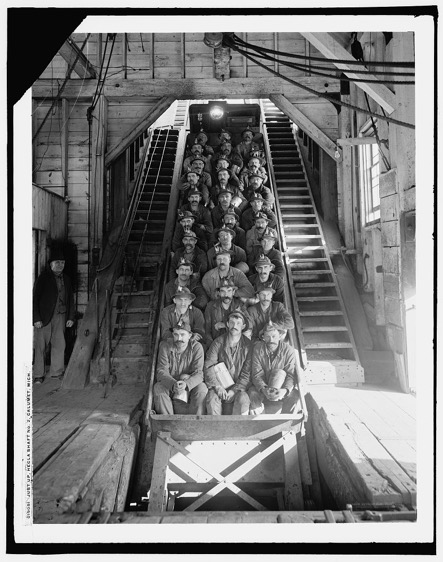 Activity 3: Alan Lomax's Field Notes and an Iron Ore Miner's Story
1. Teacher introduces students to Alan Lomax's field notes, a journal he kept in a small notebook while traveling Michigan that included leads to musicians, song lyrics, and brief descriptions of his impressions of places he visited and people he met. These field notes provide additional context for the sound recordings.
2. Students read the following excerpt from Lomax's field notes, written in Amasa, Michigan (a small iron mining town located south of the Keweenaw Peninsula) that describes his conversation with a disabled iron miner. 
On Amasa's one street this morning I passed a fellow. I was in a hurry. He jumped to one side and [remarked?] jokingly that he'd keep out of my way. When I turned to look at him he said, "I've been walking all night." Without waiting for me to answer, he said, "Yes, walking all night. Didn't sleep an hour. Had to keep these fingers going–"

And he showed me his hands curled up like birds' feet gripping a perch that wasn't there. "Got this way in the mines," he went on. "We was cleaning out the old Farley-Jones hole near ________ and I was foreman. And they wouldn't give us a stove to dry our clothes out. It was wet in there, you know, and we hauled out the old machinery and—We made a record for them, you can ask anybody if we didn't make a record [referring here to unspecified achievement by the man and his fellow miners]—I asked the boss for a stove and he wouldn't give us one. We'd take our clothes off at night, and when we'd come to put 'em on in the morning, they'd be froze. Well, a little while of that and I couldn't turn my neck and three of the other men died by consumption. I didn't die right away, but I been dying by inches for the last 19 years. Look at me. Feel my arm."

I felt his wrist–the flesh seemed to part under my fingers like old dry wood. And the fingers curved like hawk's talons and yellow.

"The doctor told me I ought to sue the company, but I said, 'Aw hell no, I'll be all right.' Then I just had a stiff neck. But later when it hit my arms I went back to find the doc with my lawyer and confirmed that he'd moved to Minnesota and died. You know that boss, he told the company lies about us, said we was lazy and wouldn't work when we were making the record! Wel,l a feller told me just the other day that some boss confessed to the company on his deathbed what he'd done to us. They never gave us a damned cent. So nowadays I have to walk. My arm hurts me so at night , but when I walk it keeps up the circulation"–and he went walking off. His legs bowed and stiff like a man who is afraid of touching his own privates. His arms he held out and his stiff yellowed fingers seemed to be clutching imaginary rifles.
Q—What are your impressions of this reading? 
Q—What more would you like to know?
3. Students sing and/or play the following Pennsylvania miner's ballad, "Oh My Liver and My Lungs," a miner's lament about the effects of work on his health (published by John A. and Alan Lomax in Our Singing Country [1941]).
4. Students compose a Michigan mining ballad, based on the story told by the disabled miner, modeling it on"Oh My Liver and My Lungs," another Michigan ballad from the Lomax collection, or a tune of choice.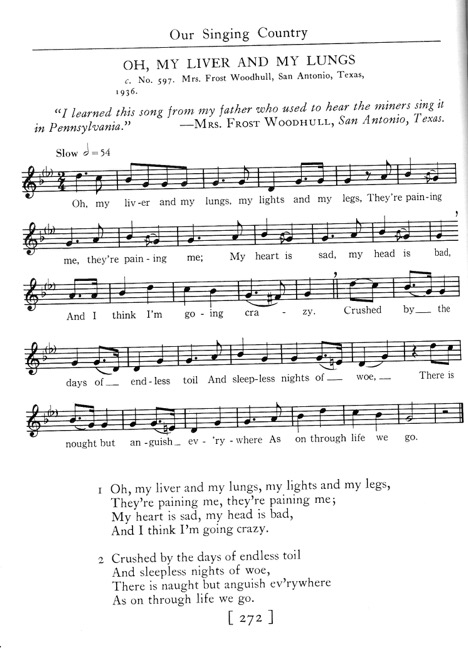 Extensions:
Explore the history of the famous 1913 Copper Strike in Michigan.
Explore mining ballads from other locales, for example, the songs of Kentucky's Aunt Molly Jackson, or songs collected by George Korson of Pennsylvania coal miners.
Credits:
Lyrics and background information for "Thirty-First Level Blues" drawn from James P. Leary, Folksongs of Another America, Field Recordings from the Upper Midwest, 1937-1946 (University of Wisconsin Press and Dust to Digital, 2015). Video clip excerpted from Alan Lomax Goes North, "The Most Fertile Source," a documentary film edited by James P. Leary and Guha Shankar using Alan Lomax's 1938 silent color film footage. The complete film is included in Folksongs of Another America.
"Oh, My Liver and My Lungs" from John A. and Alan Lomax's Our Singing Country (1941). Used courtesy of the Association for Cultural Equity.
Lesson Plan by Laurie Sommers
With generous support from the NEA