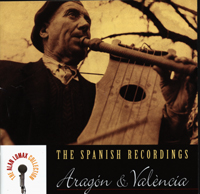 Aragón and València
Recorded 1952 by Alan Lomax with the assistance of Jeannette Bell and the collaboration of Eduardo Torner, Juan Uria Riu, Julio Caro Baroja, Radio Nacional, Antonio Mari, and Walter Starkie
Notes by Luis Bajén Garcia and Mario Gros Herrero (Aragón); and Josemi Sánchez Velasco (València), additional notes by Judith R. Cohen and Alberto Turón Lanuza; translations by Judith R .Cohen
"The jota is at its best with the scent of rosemary and fresh-plowed earth," says the opening song on this CD. An infectious collection of danced and sung jotas, archaic threshing songs, May courting songs, struck zither tunes, raucous shawms and lyrical strings, traveling down from the mountains of Aragón to the fertile coast of València. Contains previously unreleased recordings.