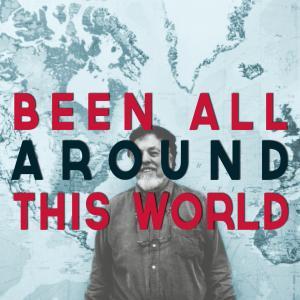 Been All Around This World is a podcast exploring the breadth and depth of folklorist Alan Lomax's seven decades of field recordings. From the earliest trips he made through the American South with his father, John A. Lomax, beginning in 1933, to his last documentary work in the early 1990s, the program will present seminal artists and performances alongside obscure, unidentified, and previously unheard singers and players, from around America and the world, drawn from the Alan Lomax Collection at the American Folklife Center, Library of Congress. It is produced and hosted by Nathan Salsburg, curator of the Alan Lomax Archive at the Association for Cultural Equity, the non-profit research center and advocacy organization that Lomax founded in 1983.
Episode 7 - Sing Christmas
1. Villagers of Cáceres, La Mancha: Christmas processional, Christmas Eve 1952
2. Merritt Boddie and Marigolds band: Christmas Machete, Gingerland, Nevis, July 1962
3. Norman Edmonds and the Old-Timers: Breaking Up Christmas, Hillsville, Virginia, August 1959
4. Sophie Loman Wing and group: All Night Long, St. Simons Island, Georgia, June 1935
5. Kelley Pace and prisoners: Holy Babe, Cumins State Farm, near Gould, Arkansas, 1942
6. Vera Ward Hall: No Room At the Inn / Last Month of the Year, Livingston, Alabama, October 1959
7. Phil Tanner: The Gower Wassail, Columbia Studios, London, 1937
8. Shirley and Dolly Collins: The Moon Shines Bright, from "For As Many As Will" (Topic, 1978)
9. 1959 United Sacred Harp Musical Association: Sherburne (#186), Fyffe, Alabama, September 1959
10. Villagers of Hío, Aragon: Buenas Entradas de Reyes, Hío, Galicia, November 1952
11. Bessie Jones and the Georgia Sea Island Singers with Hobart Smith, Nat Rahmings, and Ed Young: Yonder Come Day, St. Simons, Georgia, 1960. Preceded by 1962 discussion about the song between Jones and Antoinette Marchand. 
And the complete 1957 BBC broadcast of "Sing Christmas and the Turn of the Year," produced and hosted by Alan Lomax. Songs and performers listed here (although we have edited out Lomax's performance of "No Room At the Inn" for reasons [primarily] of file size). 
 
Episode 6 - Oh Freedom
Topical, protest, and resistance songs from Kentucky, Virginia, Arkansas, Trinidad by way of New York City, Oklahoma by way of California, and the Mississippi State Penitentiary, better known as Parchman Farm.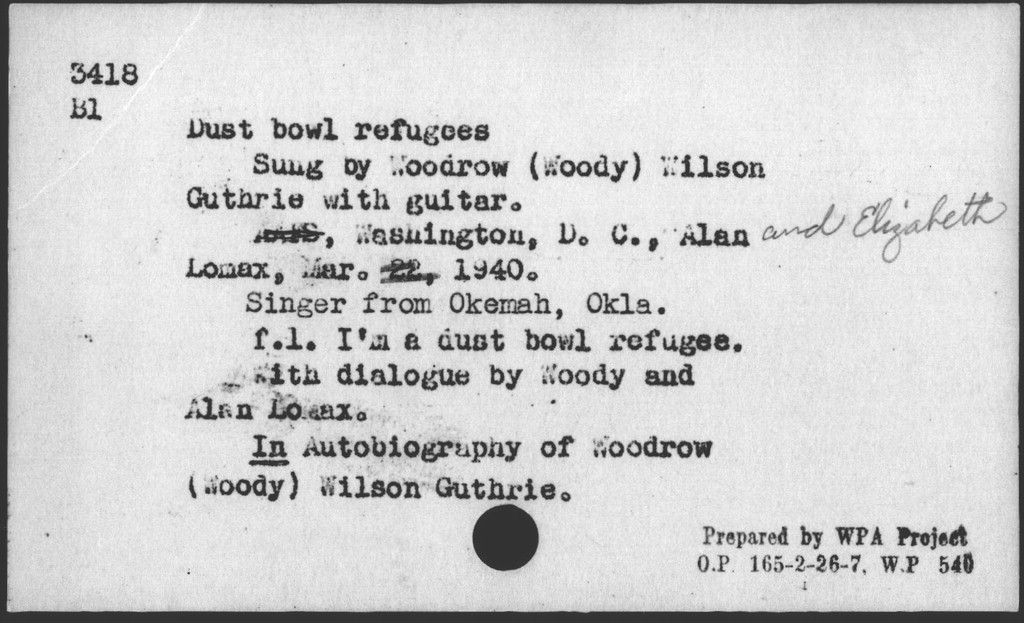 1. Sarah Ogan Gunning: I Hate the Capitalist System. NYC, November 1937.
2. Hobart Smith: Peg and Awl. Bluefield, Virginia, August 1959.
3. Big Bill Broonzy: Black, Brown and White Blues. Decca Studios, NYC, March 1947.
4. Lord Invader: Yankee Dollar. Town Hall, NYC, December 1947.
5. Woody Guthrie: Dust Bowl Refugees. Library of Congress, Washington, D.C., March 1940.
6. Nimrod Workman: 42 Years. Mascot, Tennessee, July 1983.
7. Floyd Batts: Dangerous Blues. Parchman Farm Camp 11, Parchman, Mississippi, September 1959.
8. M.B. Barnes & prisoners: Oh Freedom. Parchman Farm Women's Camp, April 1936.
Episode 5 - Singing of the Sea
Songs from and/or of the sea (and one Great Lake), from Italy, Scotland, Grenada, the Georgia Sea Islands, and Lake Michigan.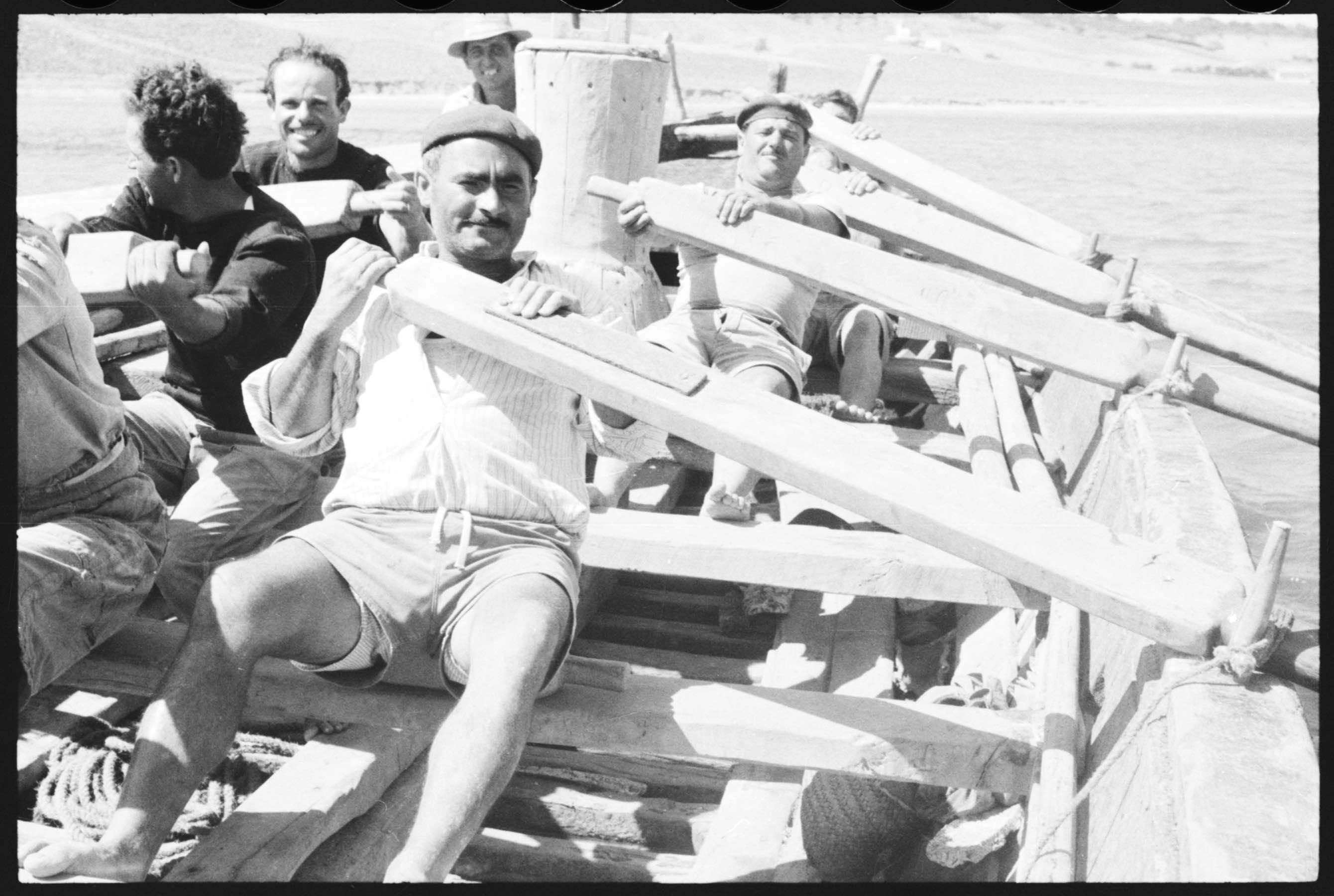 Captain A.H. Rasmussen: interview on chanties/Amsterdam Maid (fragment). Recorded in London, 1955.
Daniel Aitkens & tombstone feast group: Blow the Man Down. Recorded in La Resource, Carriacou, Grenada, August 1962.
Big John Davis, Henry Morrison, and Georgia Sea Island Singers: Hop Along, Let's Get Her. Recorded in St. Simons Island, Georgia, October 1959.
Elizabeth Austin and group: Sailing In the Boat When the Tide Runs Strong. Recorded in Old Bight, Cat Island, Bahamas, 1935.
Dominick Gallagher: The Gallagher Boys. Recorded at Beaver Island, Michigan, 1938. 
Penny Morrison and group: Cha déid mi do dh'fhear gun bhàta (I'll Not Go To A Man Without A Boat). Recorded at Balivanich, Benbecula, Scotland, June 1951.
Michele Ilari and fishermen: Cialomi (tuna fishing chants). Recorded off Agrigento, Sicily, Italy, June 1954.
Jean Glaud: Hooray Irena. Recorded in Gouyave, Carriacou, Grenada, August 1962. 
Lomax interview with Newton Joseph, interspersed with chanteys ("Hi-Lo Boys" and "Long Time Ago"), L'Esterre, Carriacou, 1962.
Episode 4 - Let Us Not Praise Famous Men
Episode 3- Wave the Ocean, Wave the Sea
Episode 2 - Baby It Must Be Love
A selection of songs concerning love in its vagaries, timed for Valentine's Day. Performances from Atlanta, Georgia; Cajun Louisiana; Scotland; Southwest Virginia; Turkmenistan; Eastern Kentucky, and the Arkansas Ozarks.
Episode 1 - I've Been All Around This World
In the inaugural episode of "Been All Around This World" we survey Alan Lomax's seven-decade field-recording career, with music from Haiti, Ireland, Mississippi, North Carolina, and the tiny Caribbean island of Carriacou, recorded between 1937 and 1991.
Playlist:
1. Rara St. Therese: Mwen tètè (I Am Stubborn). Members unidentified. Recorded on March 27, 1937, in Carrefour Dufort, Haiti.
2. Tangle Eye (Walter Jackson) with Hard Hat (Willie Lacy), 22 (Benny Will Richardson), and Little Red: When I Went to Leland. Recorded at Parchman Farm (Mississippi State Penitentiary), Sunflower County, Mississippi, November or December 1947. 
3. Margaret Barry: She Moved Through the Fair. Recorded in London, England, on November 1, 1953. 
4. Georgia Sea Island Singers (Bessie Jones, John Davis, and Emma Ramsey) with Hobart Smith, Ed Young, and Nat Rahmings: That Suits Me. Recorded at St. Simons Island, Georgia, in April 1960. 
5. Belton Sutherland: Blues #2. Recorded at the home of Clyde "Judas" Maxwell, Madison County, Mississippi, on September 3, 1978. 
6. Sheila Kay Adams: Dinah. Recorded at the home of Dellie Chandler Norton, Sodom Laurel, Burton Cove, Madison County, North Carolina, September 6-7, 1982. 
7. Winston Fleary: Marullus's speech from Julius Caesar (Act I, Scene I). Recorded during Shakespeare Mas, Carriacou, Grenada, 1991.