Thousands of hours of international field recordings housed in the Alan Lomax Archive will now reach audiences through Real-to-Reel Records (formerly Global Jukebox Records), the Archive's first independent music imprint. Real-to-Reel will produce LPs, CDs and digital albums in partnership with other folkloric institutions, record labels, university presses, along with the global reach of the digital distributor Orchard. These releases will engage and inspire audiences around the world with the ever-vital work that Alan Lomax documented, and help fulfill Lomax's mission of "cultural equity," the right of every culture to express and develop its distinctive heritage of songs, dances and stories.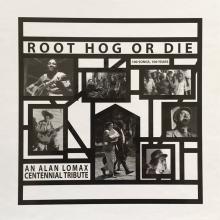 Root Hog Or Die: An Alan Lomax Centennial Tribute
"Big pig, little pig, root hog or die. That's been a saying among the mountain people—that means if you don't work you don't get anything to eat. The pig's got to root if he gets anything to eat. The hog has to root if gets anything to eat. That's the range hog, the wild hog. The hog in the wild stage." –Neal Morris to Alan Lomax, 1959.
2015 marked the centennial of Alan Lomax's birth and to commemorate it, the Alan Lomax Archive collaborated with Mississippi Records to compile this limited 6-LP box-set, surveying Lomax's career through 100 songs gathered from fifty years of his field recordings, 1933 to 1983. Root Hog Or Die combines the famous (Jelly Roll Morton, Big Bill Broonzy, a young Bob Dylan) with the unheard (Brother Alec Stamps and the congregation of Rose Hill Missionary Baptist of Greenville, Mississippi; the women's league of the South Hill Methodist Church in South Hill Village, Anguilla; an adolescent hambone performer in Harlem named Steven Wright) and is the most geographically and stylistically diverse compilation of Lomax's recordings to date, including artists from India, Ireland, Italy, Morocco, Romania, Spain, and across Britain, the Caribbean, and the United States. More than half of the tracks are previously unreleased, and are accompanied in the box by photographs (many previously unpublished) and an introductory essay and recording chronology by the Archive's curator and the set's compiler Nathan Salsburg.